Top 10 Project Starts in the U.S. - March 2021
The accompanying table records the top 10 project starts in the U.S. for March 2021.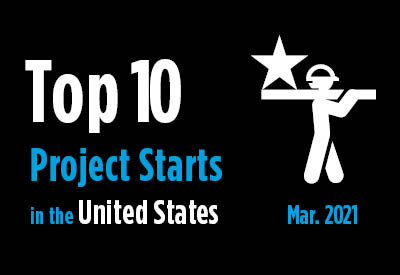 There are several reasons for highlighting upcoming large projects. Such jobs have often received a fair amount of media coverage. Therefore, people in the industry are on the lookout for when jobsite work actually gets underway. And, as showcase projects, they highlight geographically where major construction projects are proceeding.
Also, total construction activity is comprised of many small and medium-sized projects and a limited number of large developments. But the largest projects, simply by their nature, can dramatically affect total dollar and square footage volumes. In other words, the timing and size of these projects have an exaggerated influence on market forecasts.
Click here to download the Construction Industry Snapshot Package - March 2021 PDF.
Click here for the March 2021 Industry Snapshot article, March Nonresidential Construction Starts +60% M/M, but -8% Y/Y & -20% YTD.
Click here for the Nonresidential Construction Starts Trend Graphs - March 2021.
Top 10 project starts in the U.S. - March 2021
LOCATION
(East to
West)
TYPE OF
CONSTRUCTION
DESCRIPTION

Sq. Ft.
000s*

Dollars
000,000s

Massachusetts
North Andover
Industrial
Amazon Fulfillment Center - Osgood Street / North Andover
3,800
$400
(2 structures; 5 stories) 1600 Osgood St
Hillwood - Harrisburg
New York
Nassau
Civil/Engineering
Design-Build Professional Consulting Services - Bay Park Diversion Project
*
$439
(2 structures) Multiple Locations
NYS Department of Environmental Conservation
Pennsylvania
Philadelphia
Residential
West Tower at Schuykill Yards
570
$287
(8 structures; 28 stories; 326 units) 3025 John F Kennedy Blvd
Brandywine Realty Trust
District of Columbia
Washington
Residential
4000 Wisconsin Avenue NW Rebuild
*
$250
(5 structures; 5 stories; 689 units) 4000 Wisconsin Ave W
Donohoe Construction
South Carolina
Rock Hill
Industrial
Randolph Yarns Industrial Park
850
$250
(4 structures; 2 stories) 175 Celriver Rd
SCP Acquisitions LLC
Ohio
Columbus
Institutional
Ohio State Wexner Medical Center Inpatient Hospital
1,900
$1,790
(1 structure; 26 stories; 820 beds) 460 W 10th Ave
Ohio State University
Tennessee
Spring Hill
Industrial
General Motors Plant Expansion
324
$2,000
(1 structure) 100 Saturn Pkwy
General Motors - Spring Hill
Texas
San Antonio
Institutional
UT Health-SA - Inpatient Facility
500
$269
(2 structures; 8 stories; 144 beds) 8311 Ewing Halsell Dr
Vaughn Construction (Owner's Rep)
California
Irvine
Institutional
City of Hope Cancer Center / Irvine
3,292
$1,000
(2 structures; 4 stories) 15161 Alton Pkwy
FivePoint Communities
Elk Grove
Commercial
Wilton Rancheria Hotel and Casino Resort
609
$400
(6 structures; 16 stories) CA-99
Wilton Rancheria Tribal Office
TOTALS:
11,845
$7,085
*A square footage measure does not apply for alteration, some forms of industrial (e.g., petrochemical) and engineering/civil work.
Data source and table: ConstructConnect.
---
Interactive Visual
---
View this video to see how to use the filters in the Interactive Visual.
---
---
About Alex Carrick
Alex Carrick is Chief Economist for ConstructConnect. He has delivered presentations throughout North America on the U.S., Canadian and world construction outlooks. Mr. Carrick has been with the company since 1985.
See Related Posts
Economic News, Industry Snapshot