Top 10 Project Starts in the U.S. - November 2019
The accompanying table records the top 10 project starts in the U.S. for November 2019.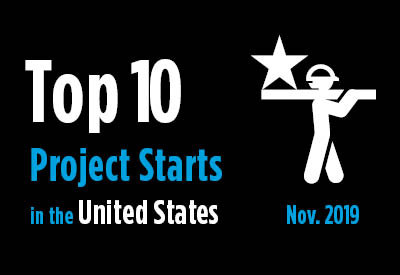 There are several reasons for highlighting upcoming large projects. Such jobs have often received a fair amount of media coverage. Therefore, people in the industry are on the lookout for when jobsite work actually gets underway. And, as showcase projects, they highlight geographically where major construction projects are proceeding.
Also, total construction activity is comprised of many small and medium-sized projects and a limited number of large developments. But the largest projects, simply by their nature, can dramatically affect total dollar and square footage volumes. In other words, the timing and size of these projects have an exaggerated influence on market forecasts.
Click here to download the Construction Industry Snapshot Package - November 2019 PDF.
Click here for the November 2019 Industry Snapshot article, November 2019's Nonresidential Construction Starts +7% Both Y/Y and YTD.
Click here for the Nonresidential Construction Starts Trend Graphs - November 2019.
Top 10 project starts in the U.S. - November 2019
LOCATION
(East to
West)
TYPE OF
CONSTRUCTION
DESCRIPTION

Sq. Ft.
000s*

Dollars
000,000s

New York
Bronx
Residential
Bankside Development Phase I
484
$750
(3 structures; 26 stories; 458 units) 2401 3rd Ave
Brookfield Properties Corporation
New York
Commercial
Pennsylvania Station Expansion / Amtrak
*
$570
(1 structure) 234 W 31st St
Empire State Development Corporation - Headquarters
New Jersey
Paramus
Institutional
Valley Hospital Main Campus Relocation
910
$800
(2 structure; 7 stories; 392 beds) Winters Ave
Valley Hospital
South Carolina
Greenwood
Industrial
Teijin Carbon Fiber Production Facility
3,939
$600
1122 SC-246
Teijin Holdings USA inc
Ohio
New Albany
Commercial
New Google Data Center / New Albany
282
$600
(1 structure; 1 story) 1101 Beech Rd SW
Google Inc. - Mountain View
Illinois
Chicago
Commercial
Chicago Union Station Commercial Development
3,100
$1,000
(4 structures) 225 S Canal St
Riverside Investment & Development Company
Minnesota
Wilmont
Civil/Engineering
Nobles 2 Wind Project / Wilmont
*
$400
(1 structure)
Tenaska - Omaha
Texas
Austin
Commercial
Apple Campus / North Austin
3,000
$1,000
(2 structures) West Parmer Lane and McNeil Rd
Generational Commercial Properties
California
Los Angeles
Commercial
One Westside (formerly known as Westside Pavilion Redevelopment)
*
$475
(4 structures; 3 stories) 10800 W Pico Blvd
Macerich Co. / Santa Monica
Oregon
Portland
Commercial
Ritz-Carlton Hotel and Condominiums / Portland
500
$600
(5 structures; 35 stories; 389 units) 10th St and Alder St
BPM Real Estate
TOTALS:
12,215
$6,795
*A square footage measure does not apply for alteration, some forms of industrial (e.g., petrochemical) and engineering/civil work.
Data source and table: ConstructConnect.
See Related Posts
Economic News