Top 10 Project Starts in the U.S. - November 2020
The accompanying table records the top 10 project starts in the U.S. for November 2020.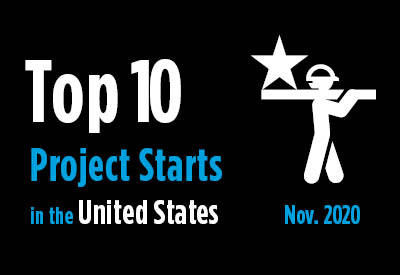 There are several reasons for highlighting upcoming large projects. Such jobs have often received a fair amount of media coverage. Therefore, people in the industry are on the lookout for when jobsite work actually gets underway. And, as showcase projects, they highlight geographically where major construction projects are proceeding.
Also, total construction activity is comprised of many small and medium-sized projects and a limited number of large developments. But the largest projects, simply by their nature, can dramatically affect total dollar and square footage volumes. In other words, the timing and size of these projects have an exaggerated influence on market forecasts.
Click here to download the Construction Industry Snapshot Package - November 2020 PDF.
Click here for the November 2020 Industry Snapshot article, November Nonresidential Construction Starts Recorded Some Welcome Upticks.
Click here for the Nonresidential Construction Starts Trend Graphs - November 2020.
Top 10 project starts in the U.S. - November 2020
LOCATION
(East to
West)
TYPE OF
CONSTRUCTION
DESCRIPTION

Sq. Ft.
000s*

Dollars
000,000s

Massachusetts
Middleboro
Civil/Engineering
South Coast Rail, Middleborough Secondary and New Bedford Main Line (MS/NBML)
*
$403
(2 structures) Multiple Locations
Massachusetts Bay Transportation Authority
New York
New York
Commercial
One Madison Avenue Office Addition
530
$2,300
(1 structure; 18 stories) 1 Madison Ave
SL Green Realty Corp
Pennsylvania
Philadelphia
Institutional
Jefferson University Health Specialty Care Pavilion / Philadelphia
462
$762
(1 structure; 19 stories) 11th St and Chestnut St
National Real Estate Advisors / Philadelphia
Tennessee
Gallatin
Commercial
Gallatin Industrial Data Center
983
$800
(1 structure) 1432 Gateway Dr
Facebook Inc. - Corporate Headquarters
Illinois
Chicago
Civil/Engineering
OMP Runway 9R-27L Extension East for Chicago O'Hare International Airport
*
$159
(2 structures) 10000 W O'Hare Ave
City of Chicago - Department of Procurement Services
Minnesota
Fort Snelling
Residential
Fort Snelling Upper Post Redevelopment / Alteration
*
$150
(1 structure; 3 stories; 200 units) 200 Tower Ave
Dominium Development & Acquisition, LLC
Kansas
Kansas City
Industrial
Urban Outfitters Distribution Center / Kansas City
880
$350
(1 structure) N 118th St & State Ave
Hillwood Development & Construction
Texas
Dallas
Civil/Engineering
I-635 LBJ East Section
*
$1,740
I-635
Texas Department of Transportation / Dallas District
California
Sacramento
Institutional
Sacramento Criminal Courthouse - The Judicial Council of California
538
$499
(2 structures; 18 stories; 53 units) 6th St & H St
McClellan Park
Visalia
Industrial
Visalia Logistics Center / Warehouse
1,330
$450
(1 structure) 3315 North Kelsey
CapRock Partners
TOTALS:
4,723
$7,613
*A square footage measure does not apply for alteration, some forms of industrial (e.g., petrochemical) and engineering/civil work.
Data source and table: ConstructConnect.
---
Interactive Visual
---
View this video to see how to use the filters in the Interactive Visual.
---
---
About Alex Carrick
Alex Carrick is Chief Economist for ConstructConnect. He has delivered presentations throughout North America on the U.S., Canadian and world construction outlooks. Mr. Carrick has been with the company since 1985.
See Related Posts
Economic News, Industry Snapshot