Top 10 Project Starts in the U.S. - October 2019
The accompanying table records the top 10 project starts in the U.S. for October 2019.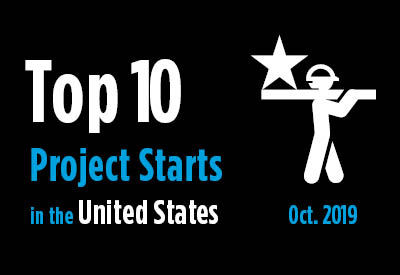 There are several reasons for highlighting upcoming large projects. Such jobs have often received a fair amount of media coverage. Therefore, people in the industry are on the lookout for when jobsite work actually gets underway. And, as showcase projects, they highlight geographically where major construction projects are proceeding.
Also, total construction activity is comprised of many small and medium-sized projects and a limited number of large developments. But the largest projects, simply by their nature, can dramatically affect total dollar and square footage volumes. In other words, the timing and size of these projects have an exaggerated influence on market forecasts.
Click here to download the Construction Industry Snapshot Package - October 2019 PDF.
Click here for the October 2019 Industry Snapshot article, October 2019's Nonresidential Construction Starts +7% M/M and +5% YTD.
Click here for the Nonresidential Construction Starts Trend Graphs - October 2019.
Top 10 project starts in the U.S. - October 2019
LOCATION
(East to
West)
TYPE OF
CONSTRUCTION
DESCRIPTION

Sq. Ft.
000s*

Dollars
000,000s

New York
New York
Commercial
St. John's Terminal Redevelopment
589
$2,000
(2 structures; 12 stories) 550 Washington St
Oxford Properties - Toronto
New Jersey
Newark
Commercial
Consolidated Rent-A-Car Facility (ConRAC) - Newark Airport
2,700
$500
(2 structures) 3 Brewster Rd
Port Authority of New York and New Jersey - Procurement (PANYNJ)
Tennessee
Nashville
Commercial
Terminal Lobby and International Arrivals Facility (IAF)
440
$327
(2 structures) 921 Airport Service Rd
Metropolitan Nashville Airport Authority
South Dakota
Pierre
Civil/Engineering
Crowned Ridge Wind Farm
*
$400
NextEra Energy Resources LLC / NextEra Energy Inc.
Texas
Houston
Industrial
Sam Houston Distribution Center
834
$448
(3 structures) Fairbanks North Houston Rd
Transwestern Headquarters - Houston
Arizona
Phoenix
Civil/Engineering
South Central Light Rail Extension
*
$1,300
Multiple Locations
Valley Metro
Washington
Lynnwood
Civil/Engineering
Sound Transit Lynnwood Link Extension - Northgate to NE 200th
*
$2,770
(north Seattle)
(4 stations) Multiple Locations
Sound Transit
California
San Dimas
Civil/Engineering
Foothill Gold Line Light Rail Extension - Glendora to Montclair
*
$806
(east L.A.)
Multiple Locations
Metro Gold Line Foothill Extension Construction Authority
Burbank
Industrial
Avion Burbank (mixed-use industrial campus)
1,263
$600
(5 structures; 8 stories; 166 units) 3001 N Hollywood Way
Overton Moore Properties
Beverly Hills
Residential
Wilshire Boulevard Mixed-Use Development
314
$464
(3 structures; 7 stories; 54 units) 9200 Wilshire Blvd
SHVO
TOTALS:
6,140
$9,615
*A square footage measure does not apply for alteration, some forms of industrial (e.g., petrochemical) and engineering/civil work.
Data source and table: ConstructConnect.