Top 10 Project Starts in the U.S. - October 2020
The accompanying table records the top 10 project starts in the U.S. for October 2020.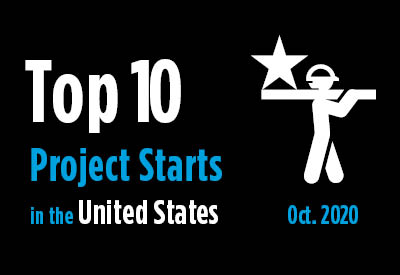 There are several reasons for highlighting upcoming large projects. Such jobs have often received a fair amount of media coverage. Therefore, people in the industry are on the lookout for when jobsite work actually gets underway. And, as showcase projects, they highlight geographically where major construction projects are proceeding.
Also, total construction activity is comprised of many small and medium-sized projects and a limited number of large developments. But the largest projects, simply by their nature, can dramatically affect total dollar and square footage volumes. In other words, the timing and size of these projects have an exaggerated influence on market forecasts.
Click here to download the Construction Industry Snapshot Package - October 2020 PDF.
Click here for the October 2020 Industry Snapshot article, October Nonresidential Construction Starts -28% YTD But Level M/M.
Click here for the Nonresidential Construction Starts Trend Graphs - October 2020.
Top 10 project starts in the U.S. - October 2020
LOCATION
(East to
West)
TYPE OF
CONSTRUCTION
DESCRIPTION

Sq. Ft.
000s*

Dollars
000,000s

Virginia
Roanoke
Institutional
Carilion Clinic Roanoke Memorial Hospital
500
$300
(8 structures; 10 stories) Belleview Ave SE
Carilion Health System
Beaverdam
Industrial
Wegmans Virginia Headquarters & Distribution Center
1,100
$175
(1 structure) Sliding Hill Rd & Ashcake Rd
Wegmans Food Stores Inc.
North Carolina
Charlotte
Commercial
Centene Corporation Campus Headquarters - Phase 1
770
$400
(2 structures; 28 stories) Mallard Creek Rd & Governor Hunt Rd
Centene Corporation
Kentucky
Brandenburg
Industrial
Nucor Corporation Manufacturing Mill (Steel)
1,500
$1,700
(1 structure) High St and Walnut Alley
Nucor Corporation
Illinois
Hinsdale
Civil/Engineering
Tri-State Tollway (I-294) Roadway and Bridge Reconstruction
*
$183
(7 structures) I-294
Illinois State Toll Highway Authority
Arkansas
Little Rock
Civil/Engineering
30 Crossing - Arkansas State Highway and Transportation Department
*
$632
(1 structure) I-30
Arkansas Department of Transportation
Texas
Dallas
Civil/Engineering
SL 12 - Interchange Improvements
*
$301
(2 structures) TX-12 Loop
Texas Department of Transportation / Austin
La Marque
Civil/Engineering
IH 45 - Reconstruct Freeway
*
$226
(2 structures) I-45
Texas Department of Transportation / Austin
San Antonio
Industrial
Project Star / Fulfillment Center
3,800
$200
(1 structure) 6806 Cal Turner Dr
Seefried Industrial Properties - Dallas & Greater TX
Oregon
Gresham
Residential
Civic Drive / Gresham
558
$160
(3 structures; 11 stories; 430 units) NW 13th St & NW Civic Dr
Palindrome Communities LLC
TOTALS:
8,228
$4,277
*A square footage measure does not apply for alteration, some forms of industrial (e.g., petrochemical) and engineering/civil work.
Data source and table: ConstructConnect.
---
Interactive Visual
---
View this video to see how to use the filters in the Interactive Visual.
---
---
About Alex Carrick
Alex Carrick is Chief Economist for ConstructConnect. He has delivered presentations throughout North America on the U.S., Canadian and world construction outlooks. Mr. Carrick has been with the company since 1985.
See Related Posts
Economic News, Industry Snapshot