Top 10 Project Starts in the U.S. - September 2019
The accompanying table records the top 10 project starts in the U.S. for September 2019.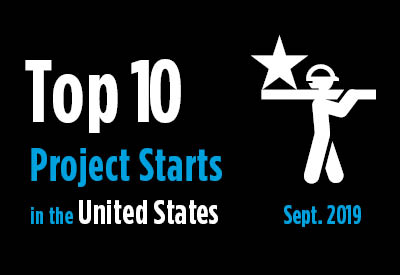 There are several reasons for highlighting upcoming large projects. Such jobs have often received a fair amount of media coverage. Therefore, people in the industry are on the lookout for when jobsite work actually gets underway. And, as showcase projects, they highlight geographically where major construction projects are proceeding.
Also, total construction activity is comprised of many small and medium-sized projects and a limited number of large developments. But the largest projects, simply by their nature, can dramatically affect total dollar and square footage volumes. In other words, the timing and size of these projects have an exaggerated influence on market forecasts.
Click here to download the Construction Industry Snapshot Package - September 2019 PDF.
Click here for the September 2019 Industry Snapshot article, Through 3 Quarters of 2019, Total Nonresidential Construction Starts +3.0%.
Click here for the Nonresidential Construction Starts Trend Graphs - September 2019.
Top 10 project starts in the U.S. - September 2019
LOCATION
(East to
West)
TYPE OF
CONSTRUCTION
DESCRIPTION

Sq. Ft.
000s*

Dollars
000,000s

New York
Elmont
Commercial
Belmont Park Redevelopment, Sports/Arena Complex
1,280
$1,300
(5 structures; 19,250 seats) 2150 Hempstead Turnpike
Sterling American Property Inc. - Headquarters
New York
Residential
Douglaston's Hudson Yards
739
$415
(2 structures; 58 stories; 931 units) 601 W 29th St
Douglaston Development
Michigan
Niles
Civil/Engineering
Indeck Niles Energy Center (natural gas-powered)
*
$1,000
(1 structure) 2200 Progressive Dr
Indeck Energy
Minnesota
Duluth
Institutional
Essentia Health Vision Northland
800
$500
(2 structures; 14 stories) 502 E 2nd St
Essentia Health Corporate Headquarters
North Dakota
Watford City
Civil/Engineering
Long X Bridge - North Dakota Department of Transportation
*
$479
(2 structures) US-85
North Dakota Department of Transportation (DOT)
Texas
Midlothian
Commercial
Google Data Center
282
$600
(1 structure; 2 stories) 3441 Railport Pkwy
Corporation Service Company
Colorado
Cheyenne Wells
Civil/Engineering
Cheyenne Ridge Wind Farm
*
$743
(1 structure)
Xcel Energy - Denver
New Mexico
Santa Teresa
Civil/Engineering
New Mexico Border Wall
*
$789
(1 structure) Multiple Locations
US Army Corps of Engineers - Albuquerque District
Oregon
Portland
Residential
Southwest Washington Block 216 Mixed-Use Development / Portland
910
$500
(5 structures; 35 stories; 148 units) 900-936 SW Washington St
Downtown Development Group
Washington
Seattle
Commercial
KeyArena Renovation
750
$850
(2 structures; 17,400 seats) 305 Harrison St
Oak View Group
TOTALS:
4,761
$7,176
*A square footage measure does not apply for alteration, some forms of industrial (e.g., petrochemical) and engineering/civil work.
Data source and table: ConstructConnect.