Top 10 Project Starts in the U.S. - September 2020
The accompanying table records the top 10 project starts in the U.S. for September 2020.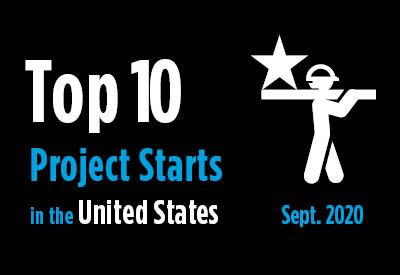 There are several reasons for highlighting upcoming large projects. Such jobs have often received a fair amount of media coverage. Therefore, people in the industry are on the lookout for when jobsite work actually gets underway. And, as showcase projects, they highlight geographically where major construction projects are proceeding.
Also, total construction activity is comprised of many small and medium-sized projects and a limited number of large developments. But the largest projects, simply by their nature, can dramatically affect total dollar and square footage volumes. In other words, the timing and size of these projects have an exaggerated influence on market forecasts.
Click here to download the Construction Industry Snapshot Package - September 2020 PDF.
Click here for the September 2020 Industry Snapshot article, September Nonresidential Construction Starts One Quarter Lower Both M/M & YTD.
Click here for the Nonresidential Construction Starts Trend Graphs - September 2020.
Top 10 project starts in the U.S. - September 2020
LOCATION
(East to
West)
TYPE OF
CONSTRUCTION
DESCRIPTION

Sq. Ft.
000s*

Dollars
000,000s

Pennsylvania
Philadelphia
Institutional
Drexel University Wexford College of Nursing and Health Professionals
450
$293
(1 structure; 11 stories) 1001 Filbert St
Wexford Science and Technology LLC
Philadelphia
Commercial
2222 Market Street Project - New Core and Shell Office Tower
305
$200
(2 structures; 19 stories) 2222 Market St
Morgan Lewis
Florida
Miami
Commercial
Terminal F Renovation and Expansion for Carnival Cruise Line - Port of Miami
50
$195
(3 structures) 1103 N Cruise Blvd
Carnival
Tennessee
Nashville
Residential
Alcove Multi-Residential Development
376
$160
(1 structure; 34 stories; 356 units) 900 Church St
Giarratana Development
Indiana
Crown Point
Institutional
Franciscan Health Crown Point Hospital
658
$200
(1 structure) I-65 & Hwy 231
Franciscan St. Anthony Health Crown Point
Illinois
Chicago
Civil/Engineering
I-17-4339 I-490 Roadway and Bridge Widening and Reconstruction and I-294 Reconstruction
*
$152
(2 structures) Multiple Locations
Illinois State Toll Highway Authority
Texas
Austin
Industrial
Tesla Cybertruck Gigafactory / Austin
4,000
$1,100
(1 structure; 1 story) 12601 Harold Green Rd
Tesla Motors
California
Sacramento
Institutional
Richards Boulevard State of California Office Complex
1,500
$1,000
(3 structures; 12 stories) 7th St & Richards Blvd
State of California
Newport Beach
Civil/Engineering
Underground Utility Assessment District No. 111, UUD-22 - Phase 2, and Utility Undergrounding for Mcfadden Alleys and Court Street
*
$684
(1 structure) Court St & Mc Fadden Pl
City of Newport Beach - City Clerk
Chula Vista
Residential
Millenia Apartments
512
$140
(5 structures; 480 units) Birch St and Eastlake Pkwy
Meridian Development and Builder Services
TOTALS:
7,851
$4,124
*A square footage measure does not apply for alteration, some forms of industrial (e.g., petrochemical) and engineering/civil work.
Data source and table: ConstructConnect.
---
Interactive Visual
---
View this video to see how to use the filters in the Interactive Visual.
---
---
About Alex Carrick
Alex Carrick is Chief Economist for ConstructConnect. He has delivered presentations throughout North America on the U.S., Canadian and world construction outlooks. Mr. Carrick has been with the company since 1985.
See Related Posts
Economic News, Industry Snapshot