Top 10 Project Starts in the U.S. - July 2019
The accompanying table records the top 10 project starts in the U.S. for July 2019.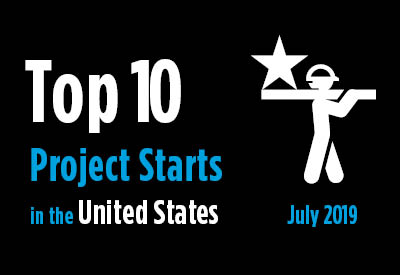 There are several reasons for highlighting upcoming large projects. Such jobs have often received a fair amount of media coverage. Therefore, people in the industry are on the lookout for when jobsite work actually gets underway. And, as showcase projects, they highlight geographically where major construction projects are proceeding.
Also, total construction activity is comprised of many small and medium-sized projects and a limited number of large developments. But the largest projects, simply by their nature, can dramatically affect total dollar and square footage volumes. In other words, the timing and size of these projects have an exaggerated influence on market forecasts.
Click here to download the Construction Industry Snapshot Package - July 2019 PDF.
Click here for the July 2019 Industry Snapshot article, Bolstered by Mega Projects, July's Nonresidential Starts Almost Matched June.
Click here for the Nonresidential Construction Starts Trend Graphs - July 2019.
Top 10 project starts in the U.S. - July 2019
LOCATION
(East to
West)
TYPE OF
CONSTRUCTION
DESCRIPTION

Sq. Ft.
000s*

Dollars
000,000s

Virginia
Fredericksburg
Civil/Engineering
I-95 Express Lanes Fredericksburg Extension
*
$500
(1 structure) I-95
Virginia Department of Transportation (VDOT) - Procurement
Georgia
Brookhaven
Institutional
Children's Healthcare of Atlanta Replacement Hospital Campus
1,800
$1,500
(1 structure; 19 stories; 446 units) I-85 & N Druid Hills Rd
Children's Healthcare of Atlanta at Scottish Rite
Florida
Miami
Commercial
Skyrise Miami
171
$540
(4 structures; 90 stories) 2665 S Bayshore Dr
J. Berkowitz Development Group
Miami
Commercial
Royal Caribbean Cruises Headquarters
350
$300
(1 structure; 10 stories) 1080 Caribbean Way
Royal Caribbean International / Royal Caribbean Cruises Ltd.
Tennessee
Nashville
Commercial
Broadwest Development
635
$500
(5 structures; 62 stories; 457 units) 1600 West End Ave
Propst Properties
Michigan
Lansing
Civil/Engineering
Natural Gas Power Plant - Lansing Board of Water and Light
*
$500
(1 structure) 3725 S Canal Rd
Lansing Board of Water & Light
Missouri
Kansas City
Commercial
Kansas City International Airport - New Single Terminal
1,000
$1,500
(1 structure) 601 Brasilia Ave
City of Kansas City - Aviation Department
Louisiana
Cameron
Industrial
Calcasieu Pass
*
$4,500
(1 structure) Davis Rd
Venture Global LNG Inc.
Texas
Texas City
Industrial
Marathon Galveston Bay Refinery
*
$1,200
(1 structure) 502 10th St S
BP Products North America
Nevada
Reno
Industrial
Makita Manufacturing Facility / Reno
819
$440
Military Rd & Echo Ave
Prologis - Reno
TOTALS:
4,775
$11,480
*A square footage measure does not apply for alteration, some forms of industrial (e.g., petrochemical) and engineering/civil work.
Data source and table: ConstructConnect.