Two Key U.S. Jobs Indicators for Better Economic Health
After dropping to 711,000 for the week ending November 7, the U.S. initial jobless claims number has been heading back up again for two periods in a row. For November 14, it was 748,000 and most recently, for November 21, it was 778,000.
There are two key jobs metrics that will reassure everyone the economy has been restored to a more even keel. The first is the 'claw-back' ratio—i.e., the percentage of the enormous total jobs contraction from February to April (due to the onset of the coronavirus crisis) that has been won back since. That figure currently sits at only 50.9%; in other words, half.
The jobs recovery ratio needs to reach at least 90% before there can be a huge sigh of relief.
The second important benchmark number is initial jobless claims. That count is presently going in the wrong direction. For November 7, it hit a recent low of 711,000. But then for November 14, it stepped back up to 748,000, and for November 21, it climbed another rung to 778,000.
As 2020 winds down, the worst wave yet of coronavirus infections is staggering the economy and setting back reopening plans.
It was not cheery news to read the other day that Disney Corp. is planning 4,000 additional layoffs beyond the 28,000 previously announced, mainly at its theme parks, in the first half of the company's current fiscal year beginning in October. Disney employs more than 220,000 people worldwide.
Ideally, as an indication of better health all around, initial jobless claims should be 400,000 or less. The sky will be that much clearer when they descend below 300,000.
Clearly, there's a considerable distance still to be traversed along the road to fuller recovery.
U.S. Initial Jobs Claims Weekly ‒ as of November 21, 2020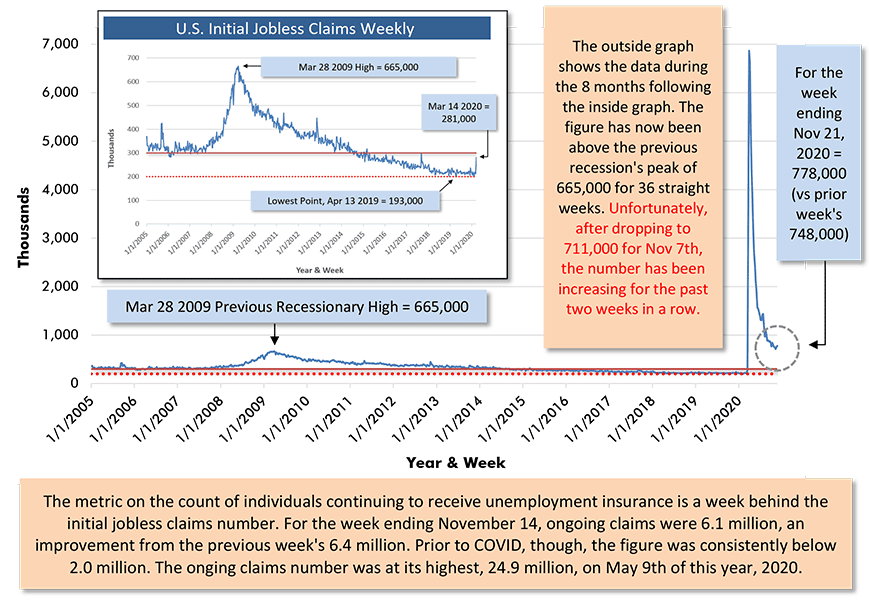 Data source: Department of Labor.
Chart: ConstructConnect.
---
About Alex Carrick
Alex Carrick is Chief Economist for ConstructConnect. He has delivered presentations throughout North America on the U.S., Canadian and world construction outlooks. Mr. Carrick has been with the company since 1985.