U.S. Jobs Creation Juggernaut Roared Again in January
America's Jobs Jump an Impressive +225,000 in Latest Month
U.S. jobs creation in January, on a seasonally adjusted (SA) basis and as calculated by the Bureau of Labor Statistics (BLS), was a strikingly good +225,000. While +225,000 was down somewhat from the +269,000 figure for January of last year, it was well ahead of 2019's monthly average of +175,000.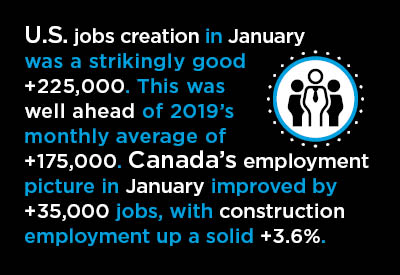 The weekly initial jobless claims number had been signaling that January's labor report would be quite positive. For the week ending February 1st, initial jobless claims dropped down close to 200,000. There were a few weeks in December 2019 when it rose to or near 250,000, albeit with the GM strike as background. Nevertheless, that was temporarily worrisome. But fears about a break in America's labor market strength have now dissipated.
The jobs increase was aided by an uptick in the participation rate, to 63.4% in January from 63.2% in December. In turn, though, the higher participation rate played a role in elevating the seasonally adjusted (SA) unemployment rate from 3.5% to 3.6%.
The not seasonally adjusted (NSA) unemployment rate moved from an unusually low (i.e., for the time of year, winter) 3.4% in December 2019 to 4.0% in the kickoff month of 2019.
Among Major Sectors, Construction in Second Place for Hiring
The sector with by far the biggest bump in employment in January was 'education and health services,' +72,000 jobs. There was a little better balance than usual between education and health care with respect to jobs creation. Education's employment number was +25,000 to health care's +47,000. Over the past several years, the medical community has been a far more reliable generator of new jobs than the school sector.
Among the economy's major subsectors, construction ranked second for jobs creation, at +44,000. Most of the new 'hard hat' jobs, +35,000, were with 'specialty trade contractors.' The residential versus nonresidential new-jobs divide among subtrades was almost even, +18,000 for the former compared with +17,000 for the latter.
Other major sectors with robust employment increases in January were: 'leisure and hospitality,' +36,000; 'transportation and warehousing,' +28,000; 'professional and business services,' +21,000; and 'government,' +19,000.
The +19,000 gain with government was mainly due to local administrations (+20,000), as the jobs counts at the federal (+12,000) and state (-13,000) levels canceled each other out.
Notable for their weak staffing performances in January were 'retail,' -8,000 jobs, and manufacturing, -12,000 jobs.
The manufacturing sector has really been struggling of late. Perhaps with the USMCA pact being settled and almost fully ratified and a Phase One agreement on tariffs and intellectual property with China being reached, manufacturing activity will perk up. There should be a more settled international trading framework going forward.
What's With the Low Y/Y Weekly Earnings in Construction?
On the wage front, there were some shocking numbers in the latest month. For all jobs, the year-over-year weekly and hourly compensation climbs were about where they've been for a long stretch now, +3.1% and +2.5%. Construction workers, as a subset of 'all jobs' were in the same ballpark hourly, at +2.9% y/y, but they fell way behind weekly, only +0.8% y/y.
There was a similar pattern for jobs not including supervisory personnel (i.e., no bosses). For all such workers, the hourly and weekly increases were +3.3% y/y and +2.7% y/y. For construction workers, they were +2.5% y/y, which was maybe okay, but only +0.7% weekly, which is hard to understand.
The demand for construction workers is said to remain strong and the jobless rate in the industry continues to be minimal. Construction's NSA unemployment rate in January 2019 was 5.4%, up from December's 5.0%, but a decent improvement on January 2018's 6.4%.
Graph 1: Average Hourly Earnings Y/Y - 'All Jobs' and Construction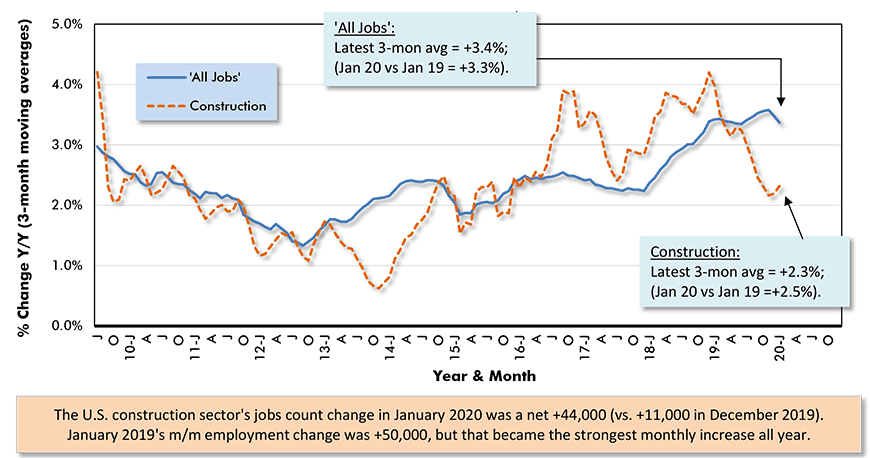 From 'Production Workers and Non-supervisory Personnel' Table. The latest data points are for January 2020.
Data source: Bureau of Labor Statistics (BLS)'s Employment Situation report.
Chart: ConstructConnect.
Graph 2: Average Weekly Earnings Y/Y - 'All Jobs' and Construction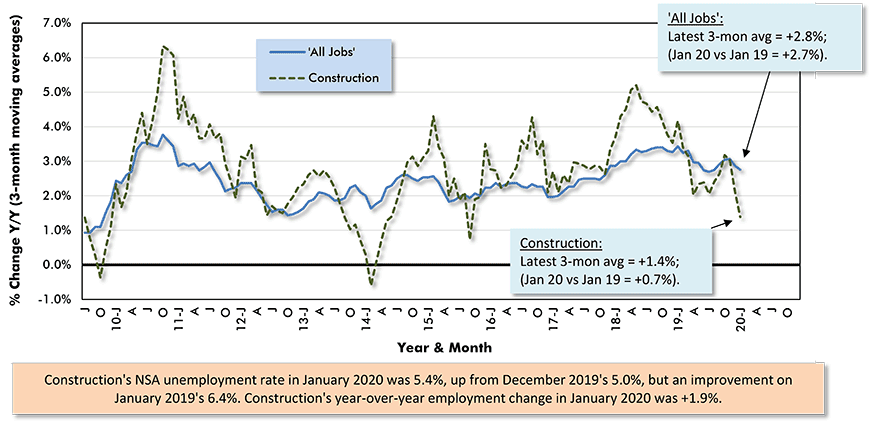 From 'Production Workers and Non-supervisory Personnel' Table. The latest data points are for January 2020.
Data source: Bureau of Labor Statistics (BLS)'s Employment Situation report.
Chart: ConstructConnect.
Canada Added 35,000 Jobs, But Not in Services
Canada's employment picture in January, as calculated by Statistics Canada, improved to the tune of +35,000 jobs. Furthermore, the SA unemployment rate north of the border tightened a bit more, to 5.5% in the latest month from 5.6% in the final period of last year.
In a departure from normal, however, the number of jobs with services-providing employers dropped in the latest month, by -15,000. Coming to the rescue were the manufacturing and construction sectors, with hiring increases of +21,000 and +16,000 respectively.
Canadian manufacturing employment is still down year-over-year, -0.7%, but construction employment is up a solid +3.6%.
All the new jobs in Canada in January were full-time (+36,000), as part-time work contracted marginally (-1,000).
As for year-over-year jobs creation, Canada and the U.S. are now in a tie with respect to both total and services-related employment. For 'total,' they're both at +1.4%; for 'services,' they're both at +1.6%.
In construction, though, it's Canada at +3.6% to America's +1.9%. In manufacturing, neither nation has much to brag about, although the U.S. is leading at +0.2% versus Canada's -0.7%.
Ontario Contributes 78% of National Jobs Increase
The provinces with the fastest employment growth in the latest month were Prince Edward Island, +6.4%, and Ontario, +2.8%. PEI's percentage increase is fun to observe and mention, but the province has a low population base. Ontario's pickup is many times more significant.
Over the latest 12-month period, Canada's total jobs increase has been +268,000, with 209,000 coming from Ontario alone. Ontario, with about 38% of the nation's population, has accounted for 78% of Canada's total jobs climb, January 2018 to January 2019.
The province with the lowest unemployment rate presently is British Columbia, 4.5%. Tied for second are Manitoba and Quebec, both at 5.1%. Ontario is another short step back, at 5.2%.
Graph 3: Canada's Provincial Labour Markets - January 2020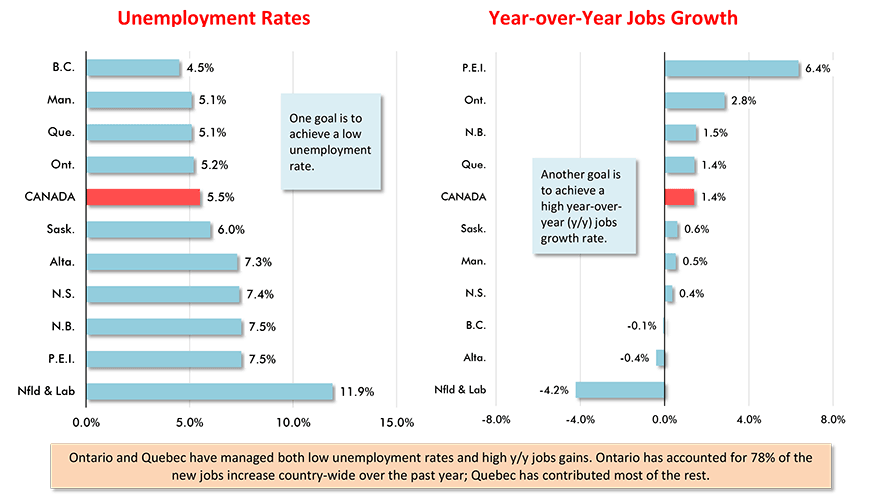 Data Source: Statistics Canada.
Chart: ConstructConnect.