U.S. September Jobs Report Offers Comfort to Worriers
Decent Jobs Growth, Especially with Revisions
U.S. jobs growth in September, as reported in the Bureau of Labor Statistics' Employment Situation report, was strong enough, at +136,000, to satisfy worriers that a reckoning for the economy has not arrived quite yet.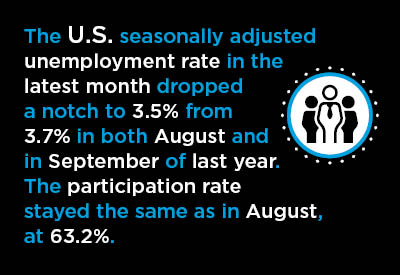 Furthermore, August's total jobs level has just been revised up by +45,000, meaning that September's count was +181,000 versus what was originally published for the prior month, a more solid gain.
The upwards revision to August's number originated equally in health care and government employment.
Nevertheless, the monthly average of employment increases in 2019 (+161,000), with only one more quarter to go, has been considerably more restrained than during the same January-to-September period of last year (+220,000). The decline has been by more than a quarter (-27%).
Construction Has Landmark Low Unemployment Rate
The nation's seasonally adjusted (SA) unemployment rate in the latest month dropped a notch to 3.5% from 3.7% in both August and in September of last year. The further tightening in the unemployment rate was especially impressive given that there was no shrinkage in the participation rate. It stayed the same as in August, at 63.2%.
On a not seasonally adjusted basis (NSA), three major industrial sectors managed unemployment rates that were less than 2.0% in the latest month. They were 'mining, quarrying, and oil and gas extraction,' 1.7%; 'government workers,' 1.8%; and 'financial activities,' 1.9%.
The construction sector's NSA unemployment rate in September fell to 3.2% from 3.6% in August. The latest figure of 3.2%, which was also achieved in May of this year, is the lowest that construction's jobless rate has been this century.
Employment Pickups by Sector
Construction's jobs advance in September, however, was only +7,000. At least that was better than in manufacturing, where there was a contraction in staffing, -2000 jobs.
The monthly average increase in 'hard hat' employment through three quarters of this year has been a lackluster +12,000, comparing unfavorably with last year's robust +29,000 for the first nine months.
The two sectors with the biggest nominal increases in employment in the latest month were 'health care,' +39,000, and 'professional and business services,' +34,000. Within 'health care,' the jobs improvement was more at ambulatory care facilities (+29,000) than in hospitals (+8,000).
Three more sectors with decent jobs improvements were: 'government,' +22,000; 'leisure and hospitality,' +21,000; and 'transportation and warehousing,' +16,000. The pickup in government employment was at the local (+14,000) and state (+10,000) levels, as Washington cut its payroll (-2,000).
The 'retail trade' sector in September shed jobs to the tune of -11,000. The job loss in retail since September of last year has been -61,000.
'Education and health care' (+2.6%) ‒ thanks entirely to 'health care' ‒ has now taken over as the leader among sectors in terms of year-over-year jobs growth (see Graph 1). Construction, which used to be out front, has fallen back into a pack that also includes 'leisure and hospitality' and 'professional and business services'. They're all tied at +2.1%.
Graph 1: Y/Y Jobs Growth, U.S. Total Industry & Major Subsectors −
September 2019 (based on seasonally adjusted payroll data)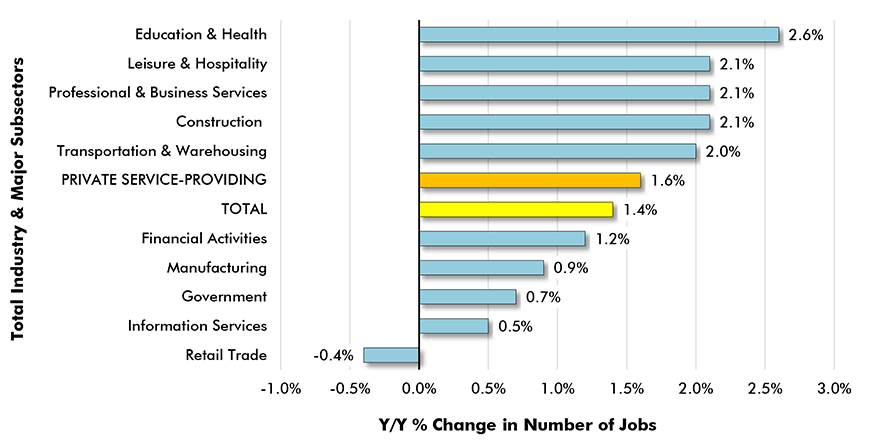 Data source: Payroll Survey, Bureau of Labor Statistics (BLS).
Chart: ConstructConnect.
Wages Still So-So and Neutral Impact on Interest Rates
On the wage front, compensation for 'all jobs' in September was +2.9% hourly and +2.6% weekly. Construction workers were comparatively out of luck hourly, +2.2%, but hit the jackpot weekly, +4.0%. Leaving aside supervisory personnel (i.e., bosses), the 'all jobs' earnings increases were +3.5% hourly and +3.1% weekly. Again, construction workers fared less well hourly, +2.3%, but pulled ahead weekly, +3.8%.
As for how September's U.S. labor market statistics will affect the thinking of the Federal Reserve with respect to interest rates, a neutral impact seems most likely. There's little to suggest the economy is heating up more feverishly nor cooling down more rapidly than when the previous month's jobs data report was released.
Graph 2: Average Weekly Earnings Y/Y - 'All Jobs' and Construction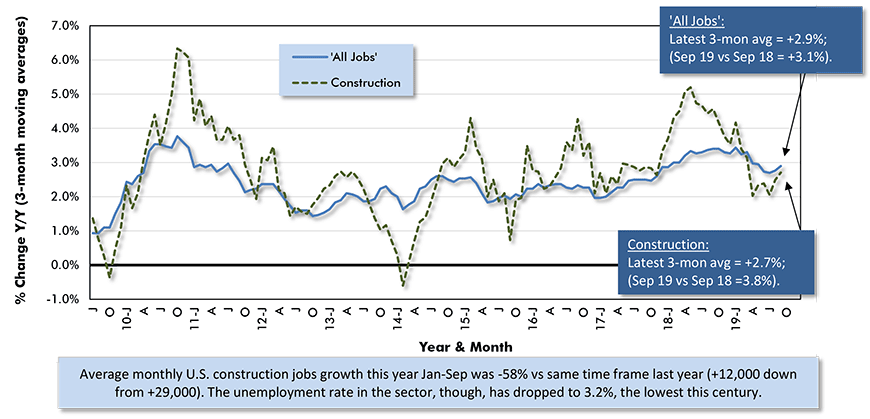 From 'Production Workers and Non-supervisory Personnel' Table. The latest data points are for August 2019.
Data source: Bureau of Labor Statistics (BLS)'s Employment Situation report.
Chart: ConstructConnect.
---

---