Expansion Index Shows Positive Signs for Construction Industry
ConstructConnect's Expansion Index, a monthly measure of the dollar value of construction projects in planning compared to the same month one year ago, registered 15% overall expansion in Canada and 10% in the United States for the month of May 2022. The latest Canadian reading was the highest in the year-to-date period and marks the 11th consecutive month of double-digit index expansion. The May reading in the United States was similarly impressive, setting a 10-month high.
Furthermore, the Expansion Index tracks construction activity by Metropolitan Statistical Area for both Canada and the United States. At this more granular level, the results through June were encouraging with more than 40% of MSAs in Canada reporting great than 20% expansion compared to the same month a year ago. In the United States, over 30% of MSAs reported expansion of more than 20%. Both results point to the strength of the North American construction sector.
For the Expansion Index, a value of 1.0 indicates that reported planned dollar-value construction spending in the latest month matches that of the prior month. Values above or below 1.0 represent the ratio between the latest month's dollar value amount and the prior month's. If the latest month's planned spending is 10% greater than in the prior month, the EI reading would be 1.10.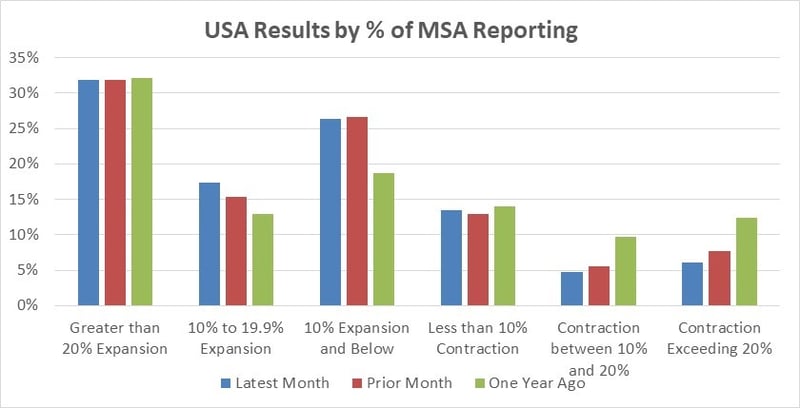 Construction activity continues to parallel established net domestic migration patterns. Using the U.S. Census Bureau's defined geographic regions, southern states continue to see both positive net migration and quickening expansion activity. Despite net migration outflows from all other regions, the Midwest continues to see expanding construction activity on both a month-to-month and year-on-year basis, surpassing expansion activity performance in the North and West.