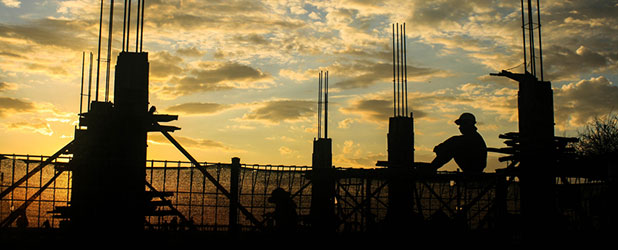 Top 10 Project Starts in the U.S. - April 2022
The accompanying table records the top 10 project starts in the United States for April 2022.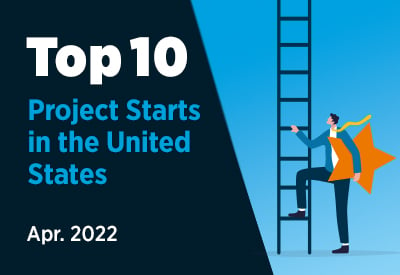 There are several reasons for highlighting upcoming large projects. Such jobs have often received a fair amount of media coverage. Therefore, people in the industry are on the lookout for when jobsite work actually gets underway. And, as showcase projects, they highlight geographically where major construction projects are proceeding.
Also, total construction activity is comprised of many small and medium-sized projects and a limited number of large developments. But the largest projects, simply by their nature, can dramatically affect total dollar and square footage volumes. In other words, the timing and size of these projects have an exaggerated influence on market forecasts.
Click here to download the Construction Industry Snapshot Package - April 2022 PDF.
Click here for the November 2021 Industry Snapshot article, April's Nonresidential Construction Starts +51% M/M, +45% Y/Y, & +14% YTD.
Click here for the Nonresidential Construction Starts Trend Graphs - April 2022.
Top 10 Project Starts in the U.S. - April 2022
LOCATION
(East to
West)
TYPE OF
CONSTRUCTION
DESCRIPTION

Sq. Ft.
000s*

Dollars
000,000s

Maine
Kittery
Institutional
P-381, Multi-Mission Dry Dock 1, Portsmouth Naval Shipyard
*
$1,731
(2 structures) Naval Yard
US Navy - Naval Facilities Engineering Command (NAVFAC) - Mid-Atlantic
New Jersey
Kearny
Civil/Engineering
Portal North Bridge Project
*
$1,560
(2 structures) Hackensack River
New Jersey Transit Corporation
North Carolina
China Grove
Industrial
Macy's - Project Rabbit - 85 North Logistics Center / China Grove
1,400
$584
(3 structures) NC-152
The Silverman Group
Georgia
Atlanta
Industrial
Science Square
2,200
$750
(4 structures) N Ave NW & Northside Dr NW
Trammell Crow Company - Atlanta Office
Florida
Orlando
Residential
Kerina Parkside - Tract 4 & 5
2,747
$380
(4 structures; 901 units) 1011 S Apopka Vineland Rd
Unicorp National Development, Inc.
Louisiana
Sulphur
Industrial
Tellurian Driftwood Liquefied Natural Gas (LNG) Production and Export Facility - Phase 1
*
$10,000
(2 structures) South of Lake Charles
Tellurian
Nebraska
Union
Commercial
Google Data Center / NW Omaha
1,432
$750
(1 structure) Blair High Rd & State St
Google Inc. - Mountain View
Texas
Georgetown
Industrial
GTX Industrial Phase 1
711
$385
(2 structures; 2 stories) 900 FM972
Green Point Property Company
California
Cupertino
Residential
The Rise Mixed Use
3,900
$2,700
(4 structures; 2400 units) 10123 N Wolfe Rd
Sand Hill Property Co.
Sacramento
Institutional
Aggie Square Mixed Use Project Phase 1 - University of California
500
$1,100
(5 structures) 2nd Ave & Stockton Blvd
GMH Associates, Inc.
TOTALS:
12,890
$19,940
*A square footage measure does not apply for alteration, some forms of industrial (e.g., petrochemical), and engineering/civil work.
Data source and table: ConstructConnect.
---
About Alex Carrick, Chief Economist
Alex Carrick is Chief Economist for ConstructConnect. He has delivered presentations throughout North America on the U.S., Canadian and world construction outlooks. Mr. Carrick has been with the company since 1985.