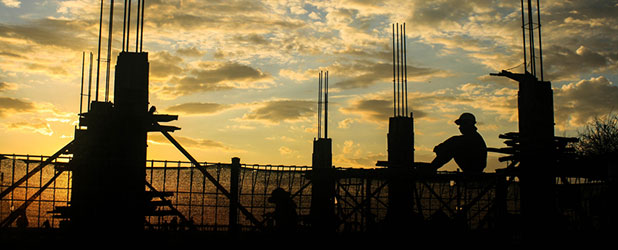 Top 10 Project Starts in the U.S. - August 2021
The accompanying table records the top 10 project starts in the United States for August 2021.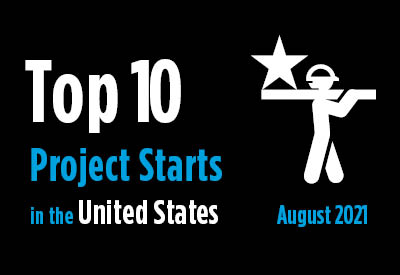 There are several reasons for highlighting upcoming large projects. Such jobs have often received a fair amount of media coverage. Therefore, people in the industry are on the lookout for when jobsite work actually gets underway. And, as showcase projects, they highlight geographically where major construction projects are proceeding.
Also, total construction activity is comprised of many small and medium-sized projects and a limited number of large developments. But the largest projects, simply by their nature, can dramatically affect total dollar and square footage volumes. In other words, the timing and size of these projects have an exaggerated influence on market forecasts.
Click here to download the Construction Industry Snapshot Package - August 2021 PDF.
Click here for the August 2021 Industry Snapshot article, August's Nonresidential Construction Starts -14% M/M, -11% Y/Y & -6% YTD.
Click here for the Nonresidential Construction Starts Trend Graphs - August 2021.
Top 10 project starts in the U.S. - August 2021
LOCATION
(East to
West)
TYPE OF
CONSTRUCTION
DESCRIPTION

Sq. Ft.
000s*

Dollars
000,000s

South Carolina

Greenville
Residential
Greenville County Square Project

1,100

$1,100

(6 structures; 1137 units) 302 University Ridge
KDS Properties
Missouri
Kansas City
Commercial
Google Data Center "Project Shale" - Hunt Midwest Business Center

475

$600

(1 structure) N Arlington Ave & NE Parvin Rd
Hunt Midwest Enterprises Inc.
Kansas City
Residential
Twin Creeks Village Mixed-Use

2,712

$375

(7 structures; 4 stories; 1362 units) 9400 N Platte Purchase Dr
MD Management
Texas
Sweeny
Industrial
Chevron Phillips Chemical 1-Hexene Sweeny/Old Ocean

*

$400

(1 structure) 21441 Loop 419
Chevron Phillips Chemical
Arizona
Mesa
Commercial
Facebook Data Center - Phase 1

970

$800

(1 structure) E Elliot Rd & S Ellsworth Rd
Facebook Inc. - Corporate Headquarters
Oregon
Portland
Residential
SOWA Willamette Blocks 41 Through 45 Mixed-Use

1,200

$452

(3 structures; 1232 units) SW Bond Ave
Alamo Manhattan LLC
Prineville
Commercial
Facebook Inc. Data Center Expansion - Buildings 10 & 11

900

$380

(1 structure) 735 SW Connect Way
Facebook Inc. - Corporate Headquarters
Portland
Institutional
Benson High School Modernization CM/GC

165

$330

(1 structure; 2 stories) 546 NE 12th Ave
Portland Public Schools
California
Los Angeles
Civil/Engineering
I-5 North Capacity Enhancement Project

*

$390

(1 structure) Multiple Locations
Los Angeles County Metropolitan Transportation Authority
Palm Desert
Commercial
Coachella Valley Arena

300

$290

(3 structures; 10,000 seats) Cook St & Varner Rd
Agua Caliente Band of Cahuilla Indians
TOTALS:
7,822
$5,117
*A square footage measure does not apply for alteration, some forms of industrial (e.g., petrochemical), and engineering/civil work.
Data source and table: ConstructConnect.
---
Interactive Visual
---
View this video to see how to use the filters in the Interactive Visual.
---
---
About Alex Carrick, Chief Economist
Alex Carrick is Chief Economist for ConstructConnect. He has delivered presentations throughout North America on the U.S., Canadian and world construction outlooks. Mr. Carrick has been with the company since 1985.