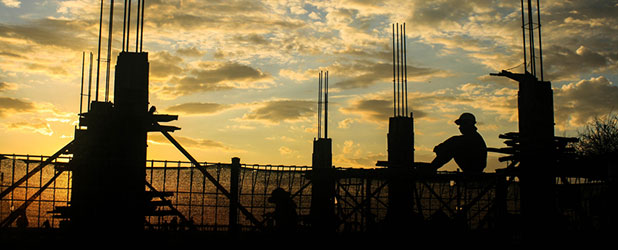 Top 10 Project Starts in the U.S. - December 2021
The accompanying table records the top 10 project starts in the U.S. for December 2021.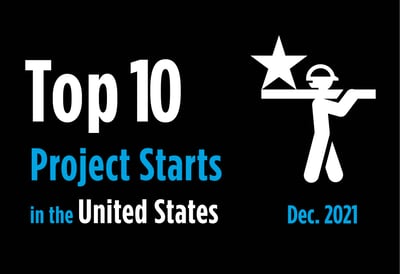 There are several reasons for highlighting upcoming large projects. Such jobs have often received a fair amount of media coverage. Therefore, people in the industry are on the lookout for when jobsite work actually gets underway. And, as showcase projects, they highlight geographically where major construction projects are proceeding.
Also, total construction activity is comprised of many small and medium-sized projects and a limited number of large developments. But the largest projects, simply by their nature, can dramatically affect total dollar and square footage volumes. In other words, the timing and size of these projects have an exaggerated influence on market forecasts.
Click here to download the Construction Industry Snapshot Package - December 2021 PDF.
Click here for the November 2021 Industry Snapshot article, December's Nonresidential Construction Starts -17% M/M, +7% Y/Y, & -1% YTD.
Click here for the Nonresidential Construction Starts Trend Graphs - December 2021.
Top 10 Project Starts in the U.S. - December 2021
LOCATION
(East to
West)
TYPE OF
CONSTRUCTION
DESCRIPTION

Sq. Ft.
000s*

Dollars
000,000s

Massachusetts
Somerville
Commercial
Xmbly Mixed-Use Development (Offices & Residential)
1,577
$500
(7 structures; 42 stories; 329 units) 5 Middlesex Ave
Novaya Real Estate Ventures
New York
New York
Institutional
New Six (6) Story School Building
308
$179
(2 structures; 6 stories) 60-53 Northern Blvd
New York City School Construction Authority (NYCSCA)
North Carolina
Fletcher
Commercial
Asheville Regional Airport (AVL) Terminal Building Modernization Project
275
$200
(4 structures; 2 stories) 61 Terminal Dr
Greater Asheville Regional Airport Authority
Kentucky
Grand Rivers
Civil/Engineering
Kentucky Lock-Downstream Lock Monolith Construction
*
$380
(1 structure) Livingston County
US Army Corps of Engineers - Nashville District
Louisiana
Barksdale AFB
Institutional
Barksdale AFB Entry Control Facility - Design/Build
100
$900
(1 structure) 425 Lindbergh Rd
US Air Force - Barksdale Air Force Base 2 CONS
Texas
Wichita Falls
Institutional
Wichita Falls Legacy and Wichita Falls Memorial High Schools (Bond Issuance)
1,386
$237
(1 structure) 500 E Hatton Rd
Wichita Falls Independent School District
California
San Diego
Commercial
San Diego International Airport Terminal Replacement
1,160
$3,400
(6 structures; 5 stories) 3225 N Harbor Dr
San Diego County Regional Airport Authority
Marina del Rey
Institutional
Cedars-Sinai Marina Del Rey Hospital Replacement
230
$500
(2 structures; 9 stories; 96 units) 4650 Lincoln Blvd
Cedars-Sinai Medical Center - Facilities
Modesto
Institutional
New Modesto Courthouse
309
$279
(2 structures; 8 stories) 9th St
Judicial Council of California
Hawaii
Honolulu
Institutional
NAVFAC HI MACC JBPHH Replace PACAF Wing Headquarters Roof, Bldg. 1102H
*
$499
(1 structures) Joint Base Pearl Harbor-Hickam
Department of the Navy - NAVFAC Hawaii
TOTALS:
5,327
$7,074
*A square footage measure does not apply for alteration, some forms of industrial (e.g., petrochemical), and engineering/civil work.
Data source and table: ConstructConnect.
---
Interactive Visual
---
View this video to see how to use the filters in the Interactive Visual.
---
About Alex Carrick, Chief Economist
Alex Carrick is Chief Economist for ConstructConnect. He has delivered presentations throughout North America on the U.S., Canadian and world construction outlooks. Mr. Carrick has been with the company since 1985.