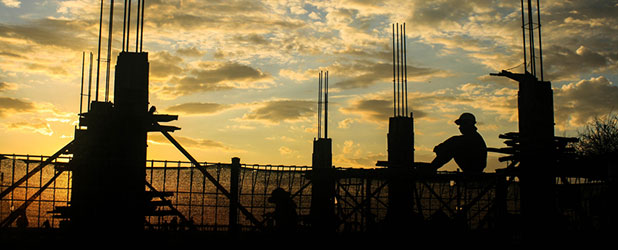 Top 10 Project Starts in the U.S. - February 2022
The accompanying table records the top 10 project starts in the U.S. for February 2022.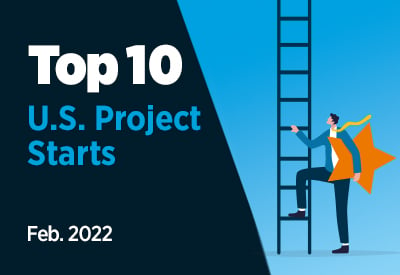 There are several reasons for highlighting upcoming large projects. Such jobs have often received a fair amount of media coverage. Therefore, people in the industry are on the lookout for when jobsite work actually gets underway. And, as showcase projects, they highlight geographically where major construction projects are proceeding.
Also, total construction activity is comprised of many small and medium-sized projects and a limited number of large developments. But the largest projects, simply by their nature, can dramatically affect total dollar and square footage volumes. In other words, the timing and size of these projects have an exaggerated influence on market forecasts.
Click here to download the Construction Industry Snapshot Package - February 2022 PDF.
Click here for the November 2021 Industry Snapshot article, February's Nonresidential Construction Starts -14% M/M, But +16% Y/Y & +6% YTD.
Click here for the Nonresidential Construction Starts Trend Graphs - February 2022.
Top 10 Project Starts in the U.S. - February 2022
LOCATION
(East to
West)
TYPE OF
CONSTRUCTION
DESCRIPTION

Sq. Ft.
000s*

Dollars
000,000s

Massachusetts
Foxborough
Commercial
Gillette Stadium Renovation
75
$225
(2 structures) 1 Patriot Pl
The Kraft Group
New York
New York
Commercial
Wildflower Studios - Astoria/Queens
775
$600
(1 structure; 7 stories) 35-15 19th Ave
Wildflower, Ltd.
New York
Civil/Engineering
Communications Based Train Control System
*
$337
(1 structure) Queens Blvd
MTA-NYC Transit
District of Columbia
Washington
Institutional
Saint Elizabeths East Hospital/Cedar Hill Regional Medical Center
327
$375
(1 structure; 136 beds) 1 Pecan St
The George Washington University Hospital
North Carolina
Winston Salem
Residential
Grading, Drainage, Paving, and Structure
*
$262
(1 structure) I-74
North Carolina Department of Transportation (NCDOT) - Division 9
Ohio
Columbus
Civil/Engineering
IR 70/IR 71 - Major Reconstruction
*
$279
(2 structures) US-71 & US-70
Ohio Department of Transportation (ODOT)
Michigan
Detroit
Industrial
Automobile Innovation Hub/Corktown
1,000
$740
(1 structure) 1907 Michigan Ave
Ford Motor Company
Indiana
Hammond
Commercial
West Lake Corridor Rail Station - Northern Indiana Commuter Transportation District
150
$555
(1 structure) Multiple Locations
City of Hammond Dept of Planning and Development
Crown Point
Civil/Engineering
Double Track Construction Project 1
*
$305
(3 structures) Multiple Locations
Northern Indiana Commuter Transportation District
California
San Jose
Commercial
Platform 16/San Jose
1,000
$250
(3 structures) 440 W Julian St
TMG Partners
TOTALS:
3,327
$3,928
*A square footage measure does not apply for alteration, some forms of industrial (e.g., petrochemical), and engineering/civil work.
Data source and table: ConstructConnect.
About Alex Carrick, Chief Economist
Alex Carrick is Chief Economist for ConstructConnect. He has delivered presentations throughout North America on the U.S., Canadian and world construction outlooks. Mr. Carrick has been with the company since 1985.