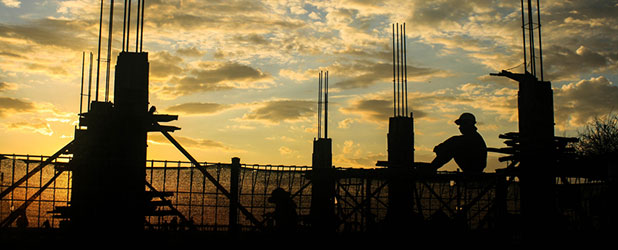 Top 10 Project Starts in the U.S. - July 2021
The accompanying table records the top 10 project starts in the U.S. for July 2021.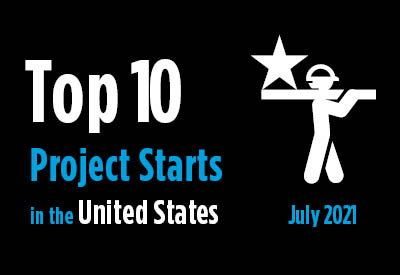 There are several reasons for highlighting upcoming large projects. Such jobs have often received a fair amount of media coverage. Therefore, people in the industry are on the lookout for when jobsite work actually gets underway. And, as showcase projects, they highlight geographically where major construction projects are proceeding.
Also, total construction activity is comprised of many small and medium-sized projects and a limited number of large developments. But the largest projects, simply by their nature, can dramatically affect total dollar and square footage volumes. In other words, the timing and size of these projects have an exaggerated influence on market forecasts.
Click here to download the Construction Industry Snapshot Package - July 2021 PDF.
Click here for the July 2021 Industry Snapshot article, July's Nonresidential Construction Starts -3% M/M, +11% Y/Y & -7% YTD.
Click here for the Nonresidential Construction Starts Trend Graphs - July 2021.
Top 10 project starts in the U.S. - July 2021
LOCATION
(East to
West)
TYPE OF
CONSTRUCTION
DESCRIPTION

Sq. Ft.
000s*

Dollars
000,000s

Massachusetts
New Bedford
Civil/Engineering
Vineyard Wind 1
*
$2,800
(1 structure) Offshore Bristol County
Avangrid Renewables
Devens
Industrial
Jackson Road Bio-Manufacturing Campus
700
$500
(2 structures) Jackson Rd
King Street Properties LLC
New York
New York
Commercial
JPMorgan Chase Office Tower
2,500
$533
(2 structures; 57 stories) 270 Park Ave
JPMorgan Chase
North Carolina
Oakboro
Industrial
Charlotte Pipe and Foundry Relocation
505
$325
(1 structure) 10145 Lighthouse Rd
Charlotte Pipe and Foundry
Florida
Miami
Residential
Block 55 / Sawyer's Walk
860
$320
(4 structures; 12 stories; 578 units) 249 NW 6 St
Swerdlow Group
Alabama
Huntsville
Commercial
Federal Bureau Of Investigation Facility / Redstone Arsenal
250
$1,000
(1 structure; 3 stories) 3443 Honest John Rd
US Department of Justice - Federal Bureau of Investigation
Texas
Austin
Civil/Engineering
Oak Hill Highway Expansion - Texas Department of Transportation (TxDOT)
*
$674
(2 structures) US-290
Central Texas Regional Mobility Authority
Austin
Institutional
Texas Childrens Hospital North Campus
535
$485
(3 structures; 5 stories; 52 beds) 9835 N Lake Creek Pkwy
Texas Children's Hospital
Colorado
Pueblo
Industrial
EVRAZ Rocky Mountain Steel Expansion
500
$500
(1 structure) South Fwy
EVRAZ Rocky Mountain Steel
Arizona
Phoenix
Commercial
44 Camelback Mixed Use Development
676
$300
(6 structures) 4350 E Camelback Rd
RED Development, LLC
TOTALS:
6,526
$7,437
*A square footage measure does not apply for alteration, some forms of industrial (e.g., petrochemical) and engineering/civil work.
Data source and table: ConstructConnect.
---
Interactive Visual
---
View this video to see how to use the filters in the Interactive Visual.
---
About Alex Carrick, Chief Economist
Alex Carrick is Chief Economist for ConstructConnect. He has delivered presentations throughout North America on the U.S., Canadian and world construction outlooks. Mr. Carrick has been with the company since 1985.