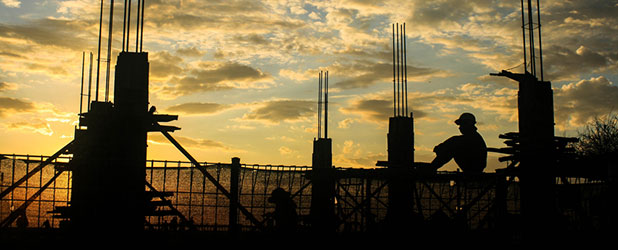 Top 10 Project Starts in the U.S. - June 2021
The accompanying table records the top 10 project starts in the United States for June 2021.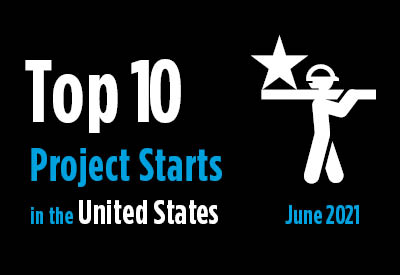 There are several reasons for highlighting upcoming large projects. Such jobs have often received a fair amount of media coverage. Therefore, people in the industry are on the lookout for when jobsite work actually gets underway. And, as showcase projects, they highlight geographically where major construction projects are proceeding.
Also, total construction activity is comprised of many small and medium-sized projects and a limited number of large developments. But the largest projects, simply by their nature, can dramatically affect total dollar and square footage volumes. In other words, the timing and size of these projects have an exaggerated influence on market forecasts.
Click here to download the Construction Industry Snapshot Package - June 2021 PDF.
Click here for the June 2021 Industry Snapshot article, June's Nonresidential Construction Starts +14% M/M, But -11% YTD.
Click here for the Nonresidential Construction Starts Trend Graphs - June 2021.
Top 10 project starts in the U.S. - June 2021
LOCATION
(East to
West)
TYPE OF
CONSTRUCTION
DESCRIPTION

Sq. Ft.
000s*

Dollars
000,000s

New Jersey
New Brunswick
Institutional
Rutgers Cancer Institute
520
$750
(5 structures; 20 stories) Division St and Hardenbergh St
New Brunswick Development Corp.
Pennsylvania
Pittsburgh
Commercial
Pittsburgh International Airport's Terminal Modernization Program
700
$1,390
(1 structure) 1000 Airport Blvd
Allegheny County Airport Authority
Virginia
McLean
Institutional
Mather Senior Living Towers / Tysons Corner
686
$300
(3 structures; 27 stories; 378 units) 7929 Westpark Dr
Mather LifeWays
Georgia
Macon
Civil/Engineering
Widening and Reconstruction on I-16/SR 404
*
$229
(4 structures) GA-404
Georgia Department of Transportation (GDOT) - Bidding Administration
Michigan
Clinton Township
Institutional
Henry Ford Macomb Hospital Expansion
225
$318
(northern Detroit)
(5 structures; 5 stories; 160 beds) 19 Mile Rd and Garfield Rd
Henry Ford Macomb Hospital - Clinton Township
Wisconsin
Kenosha
Residential
Project Greenway, Residential, Commercial, Industrial Mixed-use Project
2,300
$377
(3 structures; 524 units) 5522 104th Ave
Majestic Realty Co. - Los Angeles
Minnesota
Shakopee
Residential
Summerland Place, Multi-family
1,678
$232
(2 structures; 608 units) 17th Ave E and Mystic Lake Dr
Summergate Companies
Louisiana
Baton Rouge
Industrial
Amazon Fulfillment Center / Baton Rouge
3,840
$300
(1 structure; 5 stories) 9401 Cortana Pl
Seefried Industrial Properties - Dallas & Greater TX
Texas
Beeville
Civil/Engineering
Helena Energy Center - Wind Farm
*
$295
(1 structure) Bee County
Orsted North America Inc
Colorado
Denver
Commercial
Colorado Convention Center Expansion
80
$233
(2 structures) 700 14th St
City and County of Denver
TOTALS:
10,029
$4,424
*A square footage measure does not apply for alteration, some forms of industrial (e.g., petrochemical) and engineering/civil work.
Data source and table: ConstructConnect.
---
Interactive Visual
---
View this video to see how to use the filters in the Interactive Visual.
---
About Alex Carrick, Chief Economist
Alex Carrick is Chief Economist for ConstructConnect. He has delivered presentations throughout North America on the U.S., Canadian and world construction outlooks. Mr. Carrick has been with the company since 1985.