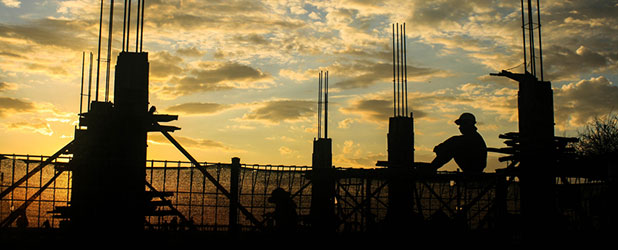 Top 10 Project Starts in the U.S. - March 2022
The accompanying table records the top 10 project starts in the U.S. for March 2022.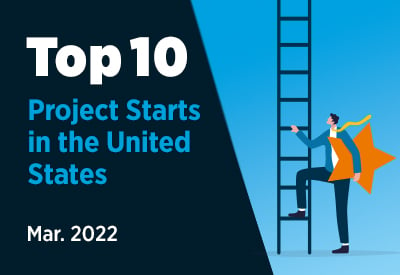 There are several reasons for highlighting upcoming large projects. Such jobs have often received a fair amount of media coverage. Therefore, people in the industry are on the lookout for when jobsite work actually gets underway. And, as showcase projects, they highlight geographically where major construction projects are proceeding.
Also, total construction activity is comprised of many small and medium-sized projects and a limited number of large developments. But the largest projects, simply by their nature, can dramatically affect total dollar and square footage volumes. In other words, the timing and size of these projects have an exaggerated influence on market forecasts.
Click here to download the Construction Industry Snapshot Package - March 2022 PDF.
Click here for the November 2021 Industry Snapshot article, March's Nonresidential Construction Starts +32% M/M, -8% Y/Y, & +1% YTD.
Click here for the Nonresidential Construction Starts Trend Graphs - March 2022.
Top 10 Project Starts in the U.S. - March 2022
LOCATION
(East to
West)
TYPE OF
CONSTRUCTION
DESCRIPTION

Sq. Ft.
000s*

Dollars
000,000s

Massachusetts
Foxborough
Commercial
10 World Trade Center (fka 401 Congress)
555
$250
(2 structures; 17 stories) 401 Congress St
Boston Global Investors
Virginia
Petersburg
Institutional
Construction of the New Central State Hospital Project
470
$270
(1 structure; 252 units) 26317 W Washington St
Virginia Department of General Services
North Carolina
Holly Springs
Industrial
Amgen Biomanufacturing Facility
350
$380
(1 structure) NC 540 and US 1
Amgen
Florida
Boca Raton
Institutional
Boca Raton Regional Hospital Gloria Drummond Patient Tower
437
$260
(1 structure; 9 stories) 745 Meadows Rd
Boca Raton Regional Hospital
Michigan
Farmington Hills
Civil/Engineering
Pavement Reconstruction, Traffic Management Installation, Ramp, Culvert Construction, Drainage, Signing, Lighting, Landscaping, Bridge Rehabilitation, Pavement Markings on I-96
*
$332
(8 structures) I-96
Michigan Department of Transportation (MDOT)
North Dakota
Spiritwood
Industrial
Spiritwood Soybean Crushing Plant At Spiritwood Energy Park Association Industrial Park
100
$350
(2 structures) 3349 94th Ave SE
Archer Daniels Midland Company
Texas
Austin
Civil/Engineering
183 North Mobility Project
*
$477
(2 structure) US-183
Central Texas Regional Mobility Authority
Pharr
Civil/Engineering
365 Tollway Project (Segments 1 and 2)
*
$296
(7 structures) Multiple Locations
Hidalgo County Regional Mobility Authority
Colorado
Golden
Civil/Engineering
Gross Reservoir Expansion Project - Denver Water
*
$464
(3 structures) Gross Dam Rd
Denver Water
Nevada
Las Vegas
Civil/Engineering
Yellow Pine Solar Project (3,000 acres)
*
$400
(1 structure) Clark Country
NextEra Energy Resources LLC / NextEra Energy Inc.
TOTALS:
1,912
$3,479
*A square footage measure does not apply for alteration, some forms of industrial (e.g., petrochemical), and engineering/civil work.
Data source and table: ConstructConnect.
About Alex Carrick, Chief Economist
Alex Carrick is Chief Economist for ConstructConnect. He has delivered presentations throughout North America on the U.S., Canadian and world construction outlooks. Mr. Carrick has been with the company since 1985.