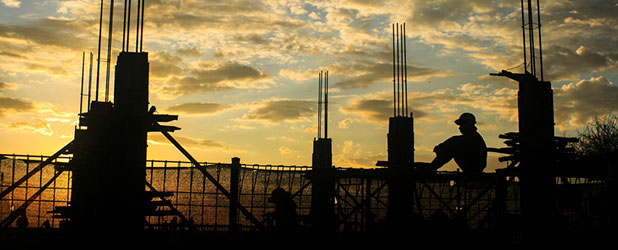 Top 10 Project Starts in the U.S. - May 2021
The accompanying table records the top 10 project starts in the U.S. for May 2021.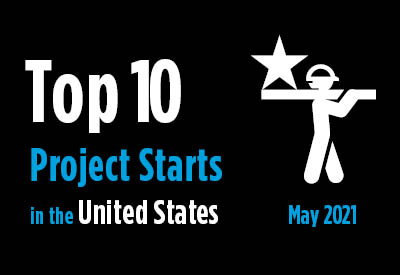 There are several reasons for highlighting upcoming large projects. Such jobs have often received a fair amount of media coverage. Therefore, people in the industry are on the lookout for when jobsite work actually gets underway. And, as showcase projects, they highlight geographically where major construction projects are proceeding.
Also, total construction activity is comprised of many small and medium-sized projects and a limited number of large developments. But the largest projects, simply by their nature, can dramatically affect total dollar and square footage volumes. In other words, the timing and size of these projects have an exaggerated influence on market forecasts.
Click here to download the Construction Industry Snapshot Package - May 2021 PDF.
Click here for the May 2021 Industry Snapshot article, May's Nonresidential Construction Starts -2.0% M/M & -14% YTD.
Click here for the Nonresidential Construction Starts Trend Graphs - May 2021.
Top 10 project starts in the U.S. - May 2021
LOCATION
(East to
West)
TYPE OF
CONSTRUCTION
DESCRIPTION

Sq. Ft.
000s*

Dollars
000,000s

New Hampshire
Hudson
Industrial
Amazon - Hudson Logistics Center - Lots A & B
2,603
$350
(3 structures) 59 Steele Rd
Amazon
Massachusetts
Somerville
Residential
50 Prospect Street Multi-family Residential
700
$192
(3 structures; 25 stories; 450 units) 50 Prospect St
Union Square Station Associates
North Carolina
Jacksonville
Institutional
RFP D/B - Hurricane Florence Recovery Facilities at MCAS New River, MILCON Package 7
779
$327
(12 structures) White St
US NAVFAC Mid-Atlantic, PWD Portsmouth Facilities Engineering, Acquisition Division
Florida
Fort Lauderdale
Residential
Sixth Street Mixed-Use Tower
685
$200
(5 structures; 47 stories; 311 units) 201 SE 6th St
The Related Group of Florida - HQ
Oklahoma
Enid
Civil/Engineering
Kaw Lake Pipeline - City of Enid
*
$243
Multiple Locations
City of Enid
Texas
Texas City
Industrial
Gulf Coast Ammonia LLC Ammonia Plant
*
$600
(1 structure) 201 Bay St S
Gulf Coast Ammonia LLC
Woodsboro
Civil/Engineering
Blackjack Creek Wind Farm
*
$250
(1 structure) US-77
RWE Renewables Americas, LLC
Abilene
Industrial
Great Lakes Cheese Company Packaging and Distribution Facility
280
$185
(2 structures) TX-36 & FM 18
Great Lakes Cheese Company Inc
Arizona
Tempe
Residential
Milhaus North Tempe Phase I and II
600
$175
(5 structures; 621 units) 1245 E Curry Rd
Banyan Residential
California
Los Angeles
Institutional
San Pedro High School Comprehensive Modernization
*
$172
(3 structures) 1001 W 15th St
Los Angeles Unified School District - Facilities Services Division
TOTALS:
5,647
$2,694
*A square footage measure does not apply for alteration, some forms of industrial (e.g., petrochemical), and engineering/civil work.
Data source and table: ConstructConnect.
---
Interactive Visual
---
View this video to see how to use the filters in the Interactive Visual.
---
About Alex Carrick, Chief Economist
Alex Carrick is Chief Economist for ConstructConnect. He has delivered presentations throughout North America on the U.S., Canadian and world construction outlooks. Mr. Carrick has been with the company since 1985.