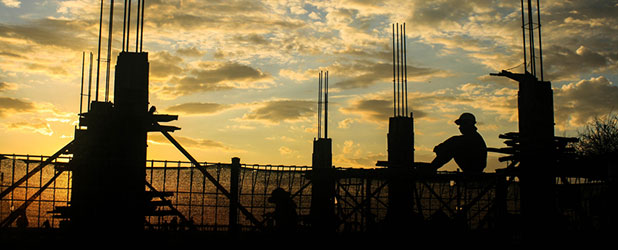 Top 10 Project Starts in the U.S. - May 2022
The accompanying table records the top 10 project starts in the United States for April 2022.
There are several reasons for highlighting upcoming large projects. Such jobs have often received a fair amount of media coverage. Therefore, people in the industry are on the lookout for when jobsite work actually gets underway. And, as showcase projects, they highlight geographically where major construction projects are proceeding.
Also, total construction activity is comprised of many small and medium-sized projects and a limited number of large developments. But the largest projects, simply by their nature, can dramatically affect total dollar and square footage volumes. In other words, the timing and size of these projects have an exaggerated influence on market forecasts.
Click here to download the Construction Industry Snapshot Package - May 2022 PDF.
Click here for the November 2021 Industry Snapshot article, May's Nonresidential Construction Starts +19% M/M, +77% Y/Y, & +29% YTD.
Click here for the Nonresidential Construction Starts Trend Graphs - April 2022.
Top 10 Project Starts in the U.S. - May 2022
LOCATION
(East to
West)
TYPE OF
CONSTRUCTION
DESCRIPTION

Sq. Ft.
000s*

Dollars
000,000s

New York
New York
Commercial
Terminal 4 (T4) Redevelopment (10 New Gates) / JFK Airport
150
$1,500
(2 structures) Queens, NY
DACK Consulting Solutions, Inc (Owner's Rep)
West Islip
Institutional
Good Samaritan Hospital Patient Care Pavilion
220
$500
(1 structure; 6 stories; 133 units) 1000 Montauk Hwy
Catholic Health Services of Long Island
Pennsylvania
Philadelphia
Institutional
New Inpatient Tower - Children's Hospital of Philadelphia
2,500
$1,960
(1 structure; 22 stories; 300 units) 515 Osler Cir
The Children's Hospital of Philadelphia (CHOP)
Florida
Tyndall AFB
Institutional
Zone 1 - F-35 Flightline Facilities (multiple structures, hangar work, lighting) Tyndall AFB, FL
*
$700
(3 structures) Tyndall AFB
US Army Corps of Engineers - Mobile District
Winter Haven
Civil/Engineering
Southeast Wellfield Project, Phase 1 West Polk Lower Floridan Aquifer Project, Phase 1
*
$462
(1 structure) Multiple Locations
City of Winter Haven
Indiana
Indianapolis
Institutional
IU Health Methodist Hospital - Hospital Consolidation
700
$1,600
(3 structures; 10 stories; 589 units) N Capitol Ave
Indiana University Health (IU Health)
Louisiana
Golden Meadow
Civil/Engineering
LA 1: Leeville to Golden Meadow (Phase 2)
*
$464
(5 structures) LA-1
Louisiana Department of Transportation and Development (LaDOTD)
Kansas
Manhattan
Industrial
Polytechnic Residence Hall - Kansas State University
*
$768
(1 structure) 1620 Denison Ave
Kansas State University
Texas
Sherman
Industrial
Texas Instruments Semiconductor Wafer Fabrication Plants
4,700
$15,000
(1 structure) 6412 US-75
Texas Instruments, Inc.
California
Chula Vista
Commercial
Chula Vista Bayfront Gaylord Pacific Hotel and Convention Center
2,500
$800
(6 structures; 22 stories; 1600 units) 999 Bayside Pkwy
Rida Development Corporation
TOTALS:
10,770
$23,694
*A square footage measure does not apply for alteration, some forms of industrial (e.g., petrochemical), and engineering/civil work.
Data source and table: ConstructConnect.
---
About Alex Carrick, Chief Economist
Alex Carrick is Chief Economist for ConstructConnect. He has delivered presentations throughout North America on the U.S., Canadian and world construction outlooks. Mr. Carrick has been with the company since 1985.