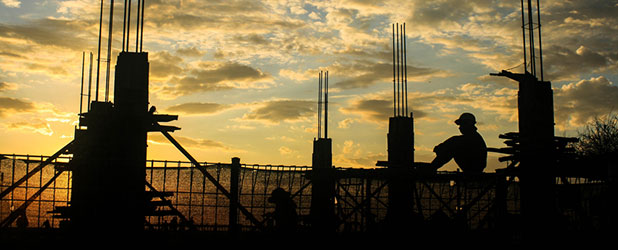 Top 10 Project Starts in the U.S. - November 2021
The accompanying table records the top 10 project starts in the U.S. for November 2021.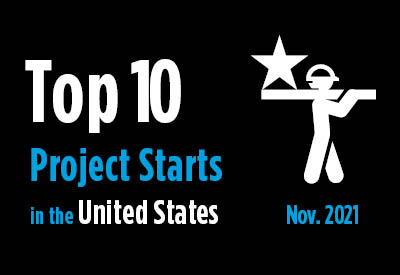 There are several reasons for highlighting upcoming large projects. Such jobs have often received a fair amount of media coverage. Therefore, people in the industry are on the lookout for when jobsite work actually gets underway. And, as showcase projects, they highlight geographically where major construction projects are proceeding.
Also, total construction activity is comprised of many small and medium-sized projects and a limited number of large developments. But the largest projects, simply by their nature, can dramatically affect total dollar and square footage volumes. In other words, the timing and size of these projects have an exaggerated influence on market forecasts.
Click here to download the Construction Industry Snapshot Package - November 2021 PDF.
Click here for the November 2021 Industry Snapshot article, November's Nonresidential Construction Starts +2% M/M, -8% Y/Y, & -2% YTD.
Click here for the Nonresidential Construction Starts Trend Graphs - November 2021.
Top 10 Project Starts in the U.S. - November 2021
LOCATION
(East to
West)
TYPE OF
CONSTRUCTION
DESCRIPTION

Sq. Ft.
000s*

Dollars
000,000s

New York
New York
Commercial
Wall Street Office Redevelopment
*
$860
(5 structures) 111 Wall St
The Nightingale Group
Long Beach
Residential
Mixed-Use Development / Long Beach
550
$369
(5 structures; 19 stories; 438 units) 100 E Broadway
Engel Burman Construction
Brooklyn
Residential
Gowanus Green Mixed-Use Development
873
$306
(2 structures; 774 units) 225 3rd St
The Hudson Companies
Ohio
New Albany
Industrial
Pharmaceutical Manufacturing and Packaging Facility
270
$365
(1 structure) State Route 161 Expressway and Beech Rd
Amgen
Kentucky
Louisville
Institutional
Construction of the New VA Medical Center (VAMC) Project in Louisville, KY
910
$840
(2 structures) 4906 Brownsboro Rd
US. Army Corps of Engineers / Louisville District
Iowa
Eddyville
Industrial
Cargill Iowa Bioprocessing Center Expansion - Renewable BDO (butanediol) Facility (site of corn plant)/ Monroe County
*
$300
(1 structure) 17540 Monroe Wapello Rd
Cargill Inc
Louisiana
Geismar
Industrial
Geismar 3 Methanol Plant
*
$1,300
(1 structure) 4171 LA-73
Methanex Corporation
Texas
Fort Worth
Residential
The Museum Place
296
$250
(3 structures; 375 units) 3300 Camp Bowie Blvd
Crescent Real Estate Equities
Colorado
Loveland
Civil/Engineering
Chimney Hollow Reservoir Project
*
$450
(2 structures) Larimer County
Northern Colorado Water Conservancy District
Arizona
Chandler
Civil/Engineering
I-10 Broadway Curve Interstate 17 (Split) to Loop 202 (Santan Freeway)
*
$616
(2 structures) I-10
Arizona Department of Transportation (AZDOT) - Phoenix Construction District Office
TOTALS:
2,899
$5,656
*A square footage measure does not apply for alteration, some forms of industrial (e.g., petrochemical), and engineering/civil work.
Data source and table: ConstructConnect.
---
Interactive Visual
---
View this video to see how to use the filters in the Interactive Visual.
---
About Alex Carrick, Chief Economist
Alex Carrick is Chief Economist for ConstructConnect. He has delivered presentations throughout North America on the U.S., Canadian and world construction outlooks. Mr. Carrick has been with the company since 1985.