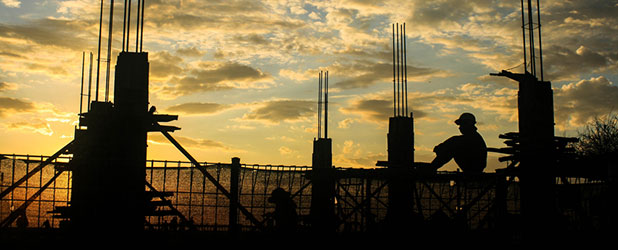 Top 10 Project Starts in the U.S. - October 2021
The accompanying table records the top 10 project starts in the U.S. for October 2021.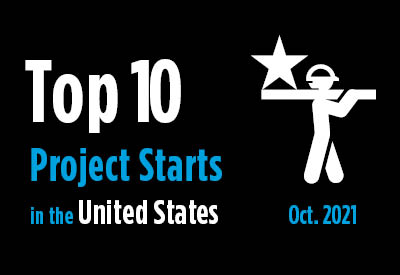 There are several reasons for highlighting upcoming large projects. Such jobs have often received a fair amount of media coverage. Therefore, people in the industry are on the lookout for when jobsite work actually gets underway. And, as showcase projects, they highlight geographically where major construction projects are proceeding.
Also, total construction activity is comprised of many small and medium-sized projects and a limited number of large developments. But the largest projects, simply by their nature, can dramatically affect total dollar and square footage volumes. In other words, the timing and size of these projects have an exaggerated influence on market forecasts.
Click here to download the Construction Industry Snapshot Package - October 2021 PDF.
Click here for the October 2021 Industry Snapshot article, October's Nonresidential Construction Starts -26% M/M, -9% Y/Y & -2% YTD.
Click here for the Nonresidential Construction Starts Trend Graphs - October 2021.
Top 10 project starts in the U.S. - October 2021
LOCATION
(East to
West)
TYPE OF
CONSTRUCTION
DESCRIPTION

Sq. Ft.
000s*

Dollars
000,000s

New York
New York
Civil/Engineering
Van Wyck Expressway (VWE) Capacity and Access Improvement to JFK Airport - Contract 2
*
$319
(2 structures) I-678
New York State Department of Transportation (NYSDOT)
Virginia
Stuart
Civil/Engineering
Project Support Services for Route 58 (Lovers Leap) - Phase 4
*
$300
(2 structures) US-58
Virginia Department of Transportation (VDOT)
North Carolina
Holly Springs
Industrial
Project Galaxy - Phase 1
839
$451
(1 structure) Holly Springs New Hill Rd & Ancient Oaks Dr
Fujifilm Diosynth Biotechnologies Texas LLC
Georgia
Atlanta
Residential
3354 Peachtree Road Mixed-Use Tower - Buckhead
560
$400
(2 structures; 360 units) 3354 Pearchtree Rd NE
Batson-Cook Development Company
Florida
Fort Myers
Commercial
Southwest Florida International Airport Terminal Expansion - Lee County Port Authority
117
$331
(1 structure) 11000 Terminal Access Rd
Lee County Port Authority - Southwest Florida International Airport
Plant City
Institutional
South Florida Baptist Hospital / Plant City
505
$326
(2 structures; 150 units) N Park Rd & E Sam Allen Rd
BayCare Health System
Ohio
Luckey
Industrial
Peloton Output Park
1,000
$400
(1 structure; 1 storey) 22671 Pemberville Rd
Peloton
Michigan
Portage
Industrial
Pfizer Modular Aseptic Processing Facility / Portage
420
$465
(1 structure) 7171 Portage Rd
Pfizer - Kalamazoo
California
Inglewood
Commercial
Los Angeles Clippers Arena and Entertainment Center / Inglewood
915
$1,200
(7 structures; 20,000 seats) 3950 W Century Blvd
SPI Holdings, LLC
Los Angeles
Commercial
Airport Metro Connector Transit Station/96th Street Station
206
$899
(1 structure) Aviation Blvd & 96th St
Los Angeles County Metropolitan Transportation Authority
TOTALS:
4,562
$5,091
*A square footage measure does not apply for alteration, some forms of industrial (e.g., petrochemical), and engineering/civil work.
Data source and table: ConstructConnect.
---
Interactive Visual
---
View this video to see how to use the filters in the Interactive Visual.
---
About Alex Carrick, Chief Economist
Alex Carrick is Chief Economist for ConstructConnect. He has delivered presentations throughout North America on the U.S., Canadian and world construction outlooks. Mr. Carrick has been with the company since 1985.