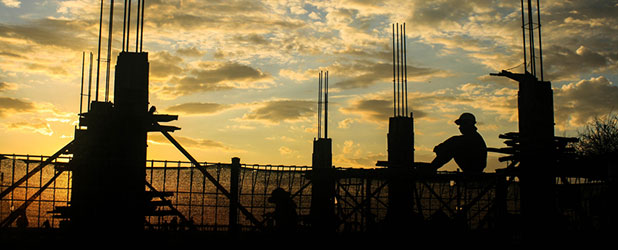 Top 10 Project Starts in the U.S. - September 2021
The accompanying table records the top 10 project starts in the U.S. for September 2021.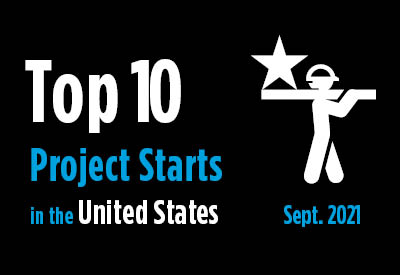 There are several reasons for highlighting upcoming large projects. Such jobs have often received a fair amount of media coverage. Therefore, people in the industry are on the lookout for when jobsite work actually gets underway. And, as showcase projects, they highlight geographically where major construction projects are proceeding.
Also, total construction activity is comprised of many small and medium-sized projects and a limited number of large developments. But the largest projects, simply by their nature, can dramatically affect total dollar and square footage volumes. In other words, the timing and size of these projects have an exaggerated influence on market forecasts.
Click here to download the Construction Industry Snapshot Package - September 2021 PDF.
Click here for the September 2021 Industry Snapshot article, September's Nonresidential Construction Starts -13% M/M, +31% Y/Y & -2% YTD.
Click here for the Nonresidential Construction Starts Trend Graphs - September 2021.
Top 10 project starts in the U.S. - September 2021
LOCATION
(East to
West)
TYPE OF
CONSTRUCTION
DESCRIPTION

Sq. Ft.
000s*

Dollars
000,000s

New York
Rochester
Institutional
University of Rochester Medicine Orthopedics & Physical Performance Center
330
$240
(2 structures) 10 Miracle Mile Dr
University of Rochester Campus Planning, Design, & Construction Management
Virginia
Alexandria
Institutional
Innovation Campus Academic Building - Building One
300
$302
(2 structures; 11 stories) 1021 Prince St
Virginia Tech - Facilities
North Carolina
Eden
Industrial
Nestle Purina Petcare / Eden
1,300
$450
(1 structure) 863 E Meadow Rd
Nestle Purina Petcare Co- Main Office
Georgia
Pooler
Industrial
Amazon Fulfillment Center / Pooler
640
$260
(1 structure) 800 Pine Meadow Dr
Amazon
Florida
Tallahassee
Industrial
Amazon Fulfillment Center - Project Mango / Tallahassee
2,800
$300
(2 structures; 4 stories) 6720 Mahan Dr
Seefried Industrial Properties - Corporate
Tennessee
Nashville
Commercial
Circle South
538
$250
(2 structures; 30 stories) 410 8th Ave S
Lincoln Property Company - Corporate
Louisiana
Plaquemine
Industrial
Shintech Louisiana Expansion (plastics/PVC)
*
$1,300
(1 structure) 28245 LA-1
Shintech Louisiana
Texas
Tatum
Civil/Engineering
Oak Hill Solar Facility
*
$250
Rusk County
Vistra
Arizona
Chandler
Industrial
Intel Chandler Ocotillo Campus Expansion
3,200
$8,000
(2 structures) 4500 S Dobson Rd
Intel Corporation
California
Irvine
Institutional
Irvine Campus Medical Complex and Center for Advanced Care - University of California at Irvine
800
$1,000
(2 structures) Multiple Locations
University of California at Irvine - Design and Construction Services
TOTALS:
9,908
$12,352
*A square footage measure does not apply for alteration, some forms of industrial (e.g., petrochemical), and engineering/civil work.
Data source and table: ConstructConnect.
---
Interactive Visual
---
View this video to see how to use the filters in the Interactive Visual.
---
---
About Alex Carrick, Chief Economist
Alex Carrick is Chief Economist for ConstructConnect. He has delivered presentations throughout North America on the U.S., Canadian and world construction outlooks. Mr. Carrick has been with the company since 1985.