The High Cost of Construction Equipment Theft
Construction equipment theft continues to be a major concern for business owners. Stealing construction equipment is a low-risk, high-reward opportunity for thieves, especially on unsecured construction sites. Less than 25% of stolen construction equipment is recovered each year.
Without a national database for construction equipment like we have road vehicles which have titles and registrations, it's easier for thieves to sell stolen equipment to unsuspecting buyers with little fear of getting caught.
While it's difficult to nail down concrete figures, the National Equipment Register (NER) estimates the value of construction equipment stolen each year is somewhere between $300 million to $1 billion. That estimate is for equipment only and doesn't include tools and building materials which are often easy targets for thieves.
The cost of replacement is just the beginning of the headache that stolen equipment causes construction business owners. (Hopefully, your insurance policy provides coverage on a replacement cost basis for your construction equipment.) There's also the time spent having to file police reports and insurance claims.
Additional costs associated with stolen construction equipment include renting replacement equipment, lost productivity, schedule delays and increased insurance premiums. Delays can lead to missed deadlines which can result in hefty penalties.
The LoJack Corporation just released their "2016 Construction Equipment Theft Recovery Report" based on their proprietary theft and recovery data. According to the report, the type of construction equipment most commonly stolen is wheeled and tracked loaders.
This was followed closely by towables, which isn't surprising since to covers a large range of equipment such as light towers, generators and welders that can easily be loaded onto a trailer or towed off a construction site. Skid steers, excavators and utility vehicles round out the top five most common types of construction equipment stolen.
Half of the construction equipment stolen in 2016 were models five years or newer. Newer equipment with fewer operating hours will have a higher resale value for thieves. Surprisingly, 30% of equipment stolen last year was manufactured in 2006 or later and 20% of stolen equipment were models from 2007 to 20011. For thieves, older models mean there is less of a chance the equipment is equipped with any type of telematics systems which includes GPS tracking that can be used to recover stolen equipment.
States with high volumes of construction activity, which means higher concentrations of construction equipment, tend to have the most amount of thefts. For 2016, the top three states for construction equipment theft were California, Texas and Florida, all of which had large amounts of construction projects going on throughout the year.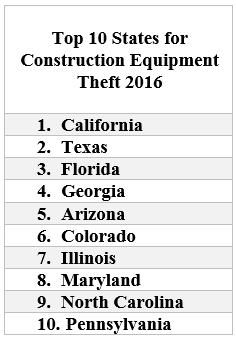 The top four manufacturers of stolen construction equipment were Doosan Bobcat, John Deere, Caterpillar and Case. All four manufacture some of the types of equipment most targeted by thieves: loaders, skid steers and excavators.
According to the LoJack report, most thefts occurred between January and June with May and January being the top two months for construction equipment theft. May makes sense because it is during the peak construction months. January could be a good time for thieves to target construction equipment, especially in the colder weather states where construction activity is less and equipment sitting idle that goes missing may go unnoticed for days or even weeks.
The key to preventing construction equipment theft is deterrence. The harder it is for thieves to quickly gain access to your equipment, the less likely they will target you. Keep your construction equipment in well-lit and fenced in areas equipped with security cameras whenever possible. Use cab locks and immobilization devices to make moving the equipment harder.
For more tips on preventing construction equipment theft, be sure to check out our Five Steps for Preventing Construction Site Theft and Five High-Tech Ways To Control Construction Site Theft.
About Kendall Jones
Kendall Jones is the Editor in Chief at ConstructConnect. He has been writing about the construction industry for years, covering a wide range of topics from safety and technology to industry news and operating insights.
See Related Posts
Construction Safety