Top 5 Coolest Buildings of 2020
It's time once again to unveil ConstructConnect's Top 5 Coolest Buildings of the Year. Each year it gets harder and harder to narrow down our picks to just five buildings. In a normal year, we typically see a few of the projects we have in early consideration get delayed or postponed, and 2020 was no exception, thanks in no small part to the coronavirus pandemic. That being said, there were a number of great projects to come out of 2020 and this list could have easily been expanded to the Top 10 or Top 15 Coolest Buildings of the Year.
The criteria for inclusion on the list are simple. The building has to have been substantially completed, topped out, or opened within the calendar year and has to have some aspect that makes the building cool. This could be the architecture, sustainability elements, unique construction methods, technology, building materials used, cultural impact, or some combination of these elements.
So, without further delay, here are ConstructConnect's Top 5 Coolest Buildings of 2020:
1. Bee'ah Headquarters – Sharjah, UAE
The new headquarters for Bee'ah, an environmental services, sustainability solutions, and waste management company, is being billed as "The Office of the Future," and it's hard to challenge that moniker given all the technology being integrated into the building designed by Zaha Hadid Architects.
The design of the building mimics the surrounding sand dunes and is a model of sustainability and technology. The new headquarters will be a net-zero energy building (NZEB), fully powered by integrated photovoltaic panels. Additional sustainability elements include recycled building materials, water and energy saving system, and passive heating and cooling powered by solar and wind.
Bee'ah's digital arm, Evoteq, along with Johnson Controls and Microsoft have out fitted the building with a ton of tech including facial recognition software, cameras, sensors, voice-recognition, system controls, 5G, digital twins, mobile apps, and more to power the building's artificial intelligence (AI) which will result in all employees and visitors with a "digital concierge" that will see to practically every need from scheduling meetings, to preparing drinks, to navigating you on your commute to the office.
The building will be LEED Platinum certified and construction is expected to wrap up construction by the end of the year with occupancy occurring in Q1 2021.
2. Powerhouse Telemark – Porsgrunn, Norway
Next up on the list is another great example of sustainable design and construction. Designed by Snøhetta, the Powerhouse Telemark will be carbon-negative, producing more energy than it will consume during a 60-year lifecycle, including the embodied carbon in the building materials, construction and eventual demolition, thanks in part to the photovoltaic panels covering its roof, canopy, and south façade.
The building received a BREEAM Excellent certification features a number of recycled and sustainable materials, a geothermal well for cooling and heating, and other energy conservation materials and systems. This is the fourth Powerhouse project, which is a collaboration between Snøhetta, Skanska, Entra, Asplan Viak, and ZERO with a goal being the "most climate-ambitious player in the construction sector."
3. Opus – Dubai, UAE
Another building designed by Zaha Hadid Architects, the Opus is home to offices, restaurants, apartments, and the ME Dubai hotel. The ME Dubai hotel, which opened in March, is the only hotel in the world where both the exterior and interiors were designed by the late "Queen of the Curve" Zaha Hadid.
From the outside, the building gives off the appearance of a floating cube with a shapeless hole punched through the middle. The building actually consists of two towers connected at the top and bottom. The interior features open spaces and fluid curves that give off a definite futuristic, sci-fi vibe.
The double-glazed façade features a mirrored frit pattern and UV coating to reduce solar gain and save energy along with lighting and climate control systems. The ME Meliá hotel is committed to sustainability, pledging that the hotel will be zero-plastic by using stainless steel and glass water bottles and implementing a stringent recycling program and eco-friendly waste management program.
4. Nanjing Zendai Himalayas Center – Nanjing, China
The Nanjing Zendai Himalayas Center designed by MAD Architects isn't just one building, it's an over 6 million square foot mixed-use development resembling a small village with a mix of low-rise buildings surrounded by 13 mountain-shaped buildings inspired by the Himalayas.
This massive project spans six city blocks with footbridges and elevated walkways connecting the mix of offices, hotels, apartments, and retail stores interspersed with public gardens filled with greenery, waterfalls, ponds and brooks. According to MAD, their goal was to "capture a fully realized "Shanshui City"—a concept at the center of MAD's designs that adapts the traditional Chinese Shanshui ethos of spiritual harmony between nature and humanity to the modern urban environment."
5. Museum of the Future – Dubai, UAE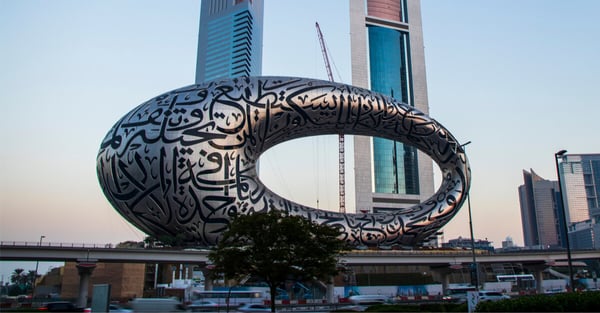 Dubai continues to push the boundaries of what's possible in construction with a mix of modern architecture, cutting-edge technology, and sustainability. For the Museum of the Future, architecture firm Killa Design teamed up with Buro Happold to bring design and technology together for a truly unique building. Killa Design was behind Dubai's Office of the Future, the world's first 3D printed office building back in 2016.
The oval-shaped building was made possible using BIM and a growth algorithm created specifically for the project by Buro Happold. By inputting specific parameters for the building, the algorithm runs through all the possible design models and permutations to deliver the best design for the building based on those parameters. By combining BIM with the parametric design process, it verifies constructability and provides clash detection and allowed for all the building components, some of which were 3D printed, to be precisely made and fitted together.
The façade is made of 1,024 stainless steel and fiberglass panels fused together and covered in Arabic script, which double as the building's windows, bearing quotes about the future from Sheikh Mohammed bin Rashid Al Maktoum, the Vice President and Prime Minister of the United Arab Emirates and ruler of Dubai. The building is powered by a photovoltaic solar array and additional sustainable an environmentally friendly elements such as "passive solar architecture, low-energy and low-water engineering solutions, recovery strategies for both energy and water, and building integrated renewables" in order to achieve its LEED Platinum rating.
---
Want to get more insights like these delivered straight to your inbox? Interested in staying on top of the latest construction news, trends, technology, and economic reports?
About Kendall Jones
Kendall Jones is the Editor in Chief at ConstructConnect. He has been writing about the construction industry for years, covering a wide range of topics from safety and technology to industry news and operating insights.
See Related Posts
Operating Insights, Takeoff & Estimating
Operating Insights, Takeoff & Estimating