ConstructConnect, AIA Detroit, & Life Remodeled Team Up for Durfee Transformation
The year 2020 has been nothing short of a pandemic-sized surprise. "Normal" has been redefined to include mask apparel, social distancing, and a rewrite on what public life looks like. Despite limitations, there are organizations that continue to cross the divide and care for their own. Such is true for AIA Detroit, a chapter of the American Institute of Architects.
A proud sponsor of the American Institute of Architects, ConstructConnect partners with local AIA chapters to bring labor enhancements to the communities surrounding them. In October, the company sponsored Life Remodeled with AIA Detroit.
"Lauren Myrand, Executive Director of AIA Detroit, reached out to CostructConnect with a perfect project to bring members of the AEC community together to make an impact on local communities. AIA Detroit was looking for a sponsor to allow over 70 volunteers from local architectural firms to take part in Life Remodeled. Our team made up one of the largest organizations to participate in the event," explained Derek Guffey, Vice President of Product Marketing – BPM at ConstructConnect.
Life Remodeled's stated purpose is, "We exist to bridge people across divides to help transform each other's lives." Their three-tiered focus on giving—with cash, labor, and materials—assists the organization with identification of Detroit neighborhoods that have a significant need and require radical hope.
"ConstructConnect is actively looking for ways to continue our engagement with the AEC community and directly benefit local markets," said Jen Johnson, ConstructConnect's Chief People Officer. "The Life Remodeled project was a perfect example of a way that we could partner with AIA Detroit to inject a little hope on the local level."
Life Remodeled's work, which started in 2011 with a single-family home built in less than a week, now harnesses enough volunteer power to makeover Detroit Public School-based neighborhoods. Their fourth neighborhood overhaul, the Six Day Project welcomes—in a typical year—10,000+ volunteers, including the likes of the professional building community. Their industry-learned skills create opportunities for co-partnership that results in school building repair, home improvements and boarding, and blight removal of 300+ neighborhood blocks.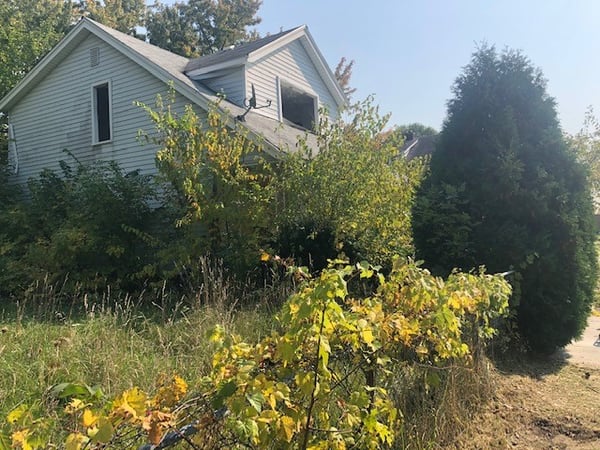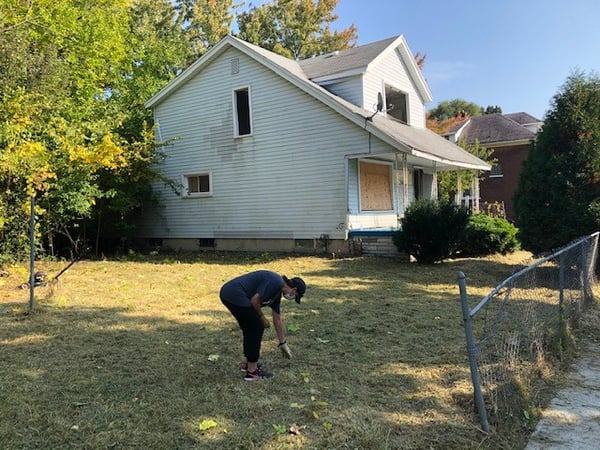 AIA Detroit has played a key role in gathering and deploying the Detroit architectural community in support of Life Remodeled. In 2019, the chapter welcomed more than 120 participants from metro firms. And, it's this ongoing partnership that's helped result in local school partnership with the former Durfee Elementary-Middle School building. Their aim: to transform the former school into the Durfee Innovation Society.
This year's project—modified to accommodate COVID-19 safety guidelines—upgraded 150 blocks with just 313 participating members, a continuation of the Durfee transformation.Projects included playground construction and creation of a kid's community space in the Durfee Innovation Society for mentoring, tutoring, and youth programs.
Guffey said of both the AIA and ConstructConnect's team's involvement, "We focused our efforts to beautify abandoned properties by removing trash and overgrown vegetation. The transformation was significant and impactful to the surrounding community."
While giving often means the giver gets just as much as the receiver in return, statistically, Life Remodeled has been able to see the benefits add up. See the infographic taken from Life Remodeled's website below for a breakdown on both sustainability and volunteer impact.

Johnson concluded, "When the world comes out of the lockdown we've been living under, ConstructConnect will remain committed to partnership with organizations that are able to make a tangible impact on local communities. Projects like Life Remodeled are a perfect example of the type of transformation that AEC members can make on neighborhoods where we live, work, and play."
About Melissa Bookout
As a content contributor at ConstructConnect, Melissa writes to inspire and encourage readers to thoughtfully consider new ways to achieve their maximum professional potential.
See Related Posts
Community Outreach