Veterans Day: ConstructConnect's "Thank You" Effort
"Honor to the soldier and sailor everywhere, who bravely bears his country's cause. Honor, also, to the citizen who cares for his brother [and sister] in the field and serves, as he best can, the same cause." - Abraham Lincoln
Honor to the soldier and sailor everywhere…
As of this year, in the United States, there are 17.4 million veterans. Of these 17 million, over 9 million have been served by the Department of Veterans Affairs. Governmental care for military personnel has long been a service rendered, dating back to the 1789 legislation that ensured pensions for veterans disabled during the Revolutionary War.
Some 100+ years later, the continued evolution of U.S.-based veteran support introduced the G.I. Bill of Rights under President Franklin Roosevelt. This package, a World War II-compelled offering, provided educational benefits, unemployment compensation, and federal loans to war veterans. And in 1989, President Reagan saw fit to reposition the Veterans Administration to a cabinet level position, now renamed the Department of Veterans Affairs.
Though veteran support has at times waned, the push for continued improvement is nestled in the long pursuit of these 50 states to care for those who've cared to protect the freedoms we recognize in this democratic nation.
Honor, also, to the citizen who cares for his brother and sister…
At ConstructConnect, we pause to consider this and recognize all military personnel who have given their time for the benefit of our well-being, including our Canadian brothers and sisters who pay tribute today on their Remembrance Day.
While our celebration of veteran servitude pales in comparison to their sacrifice, we know that today's construction industry is positively impacted beyond their time served.
"Veterans Day is so important. The significance and powerful impact our veterans have not only on our country, but on our souls is profound," said ConstructConnect's Chief People Officer Julie Storm.
Around 15.5% of veterans enter the construction industry, marking them as an integral part of this professional market. In an industry where labor shortage isn't a secret, veteran presence post military service has a remarkable impact on construction work taking place nationally.
Internally, one of the strategic focuses ConstructConnect is tackling is team member well-being that extends to surrounding communities. Outreach efforts in connection with our Employee Resource Group (ERG) have gained traction through our recent partnership with the Wounded Warrior Project's Warriors to Work.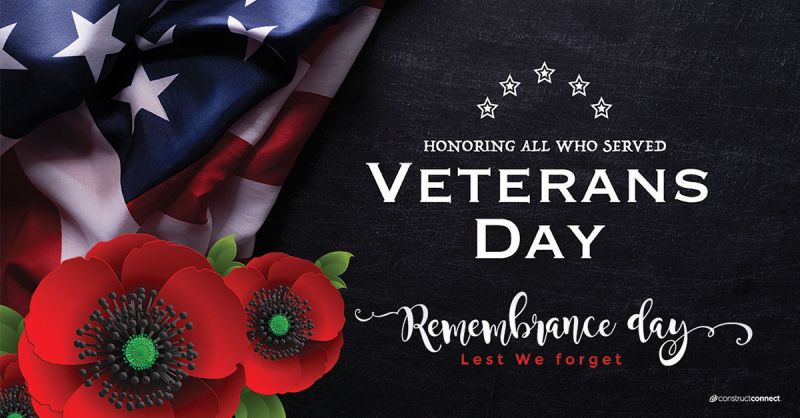 "The Wounded Warrior Project is a wonderful organization, doing so much for our nation's heroes. The ERG group is proud to form this partnership, and we are looking forward to the opportunity to expand our veteran hiring, as well as help veterans reach all of their career goals," explained Elizabeth Wilson, Veteran ERG participant and ConstructConnect team member.
Warriors to Work focuses on job placement, career counseling, and professional development for veterans, a value-add for those transitioning from military service to the civilian workforce. It's this combined partnership that offers another hiring option for those seeking job placement.
ConstructConnect's partnered hiring efforts will also offer career counseling and professional development with informational training focused on interview coaching, resume writing, and construction industry expertise from in-house experts. In return, ConstructConnect will receive coaching on how to support workplace veterans.
We celebrate you…
November 11, 1947, Birmingham, Alabama, held the very first celebration termed "Veterans Day," complete with veteran-honoring festivities and parade. Seventy-three years later, we proudly salute those who have and continue to serve so we might be free, and together, we thank their families for their added sacrifice.
"Without your sacrifice, peace of mind for our nation can't fully be achieved. Please accept my personal appreciation and admiration for your service," Storm concluded.
And we agree, freedom is not free.
About Melissa Bookout
As a content contributor at ConstructConnect, Melissa writes to inspire and encourage readers to thoughtfully consider new ways to achieve their maximum professional potential.
See Related Posts