ConstructConnect's Three Supports AIA New York's Annual Day of Service
Time, talent, treasure. These are the core tenets of ConstructConnect's outreach efforts. We believe that each person is suited differently to give differently. That's why we recognize a variety of options, empowering the organization, both on a corporate level and as individual team members, to give "the three" away.
One of the ways ConstructConnect brings "the three" to life is through corporate partnerships, like the one established with the American Institute of Architecture's (AIA) New York chapter.
"ConstructConnect has a long-standing relationship with the American Institute of Architects and the two have historically partnered with AEC Cares, a nonprofit organization, to bring design professionals together the day before National Convention to perform a "blitz build" in the host city," explained Jen Johnson, Chief Experience Officer at ConstructConnect. "ConstructConnect has supported AIA New York over the years through various sponsorships. This year, as we looked for a way to meaningfully impact communities, the AIA New York's Day of Service program was a natural fit."
AIA New York's Day of Service was modeled after ConstructConnect's AEC Cares community outreach nonprofit. AEC Cares conducts a one day "blitz build" that coincides with the AIA Conference on Architecture. A nonprofit organization in the host city is selected to receive a renovation of their facilities completed by volunteers from the AEC community.
With AEC Cares unable to host outreach projects during the AIA Conference in New York City in 2018, the AIA New York chapter decided to establish their own system for nonprofit organizations to receive volunteer support to make needed upgrades to their facilities.
Each project, whether for facility upgrades and/or assisting with an organization's mission, includes a different team of architects supported by construction industry partners and building product manufacturers. It's an initiative that takes months of planning and support from AIA New York.
Derek Guffey, VP, Product Marketing – Manufacturing Segment said of ConstructConnect's community support, "Connectivity must extend beyond our software and data, bringing people together for the good of our built environment. AIA New York and AEC Cares are wonderful examples of how ConstructConnect and its partners can bring the AEC community together to impact those in need."
Two years later, with 11 projects completed throughout New York City boroughs, AIA New York's annual Day of Service continues to offer "an opportunity for architects and their firms to bring ideas to life for nonprofit organizations around the city."
It's under this focused mission that the following four projects will be completed by the end of 2020:
COOKFOX Architects
Partner Organization:

Ali Forney Center,

the largest LGBTQ community center for homeless youth in the US

Project:

Kitchen renovation for one of AFC's emergency housing sites
Urbahn Architects
Assisting Organizations:

Schuler Shook + Forte Construction Corp./TAP Electrical Contracting Service Inc.

Partner Organization:

Bowery Residents' Committee (BRC), a local non-profit that works with NYC's homeless

Project:

Reimagine the exterior yard at the BRC's Men's Assessment Center in Brooklyn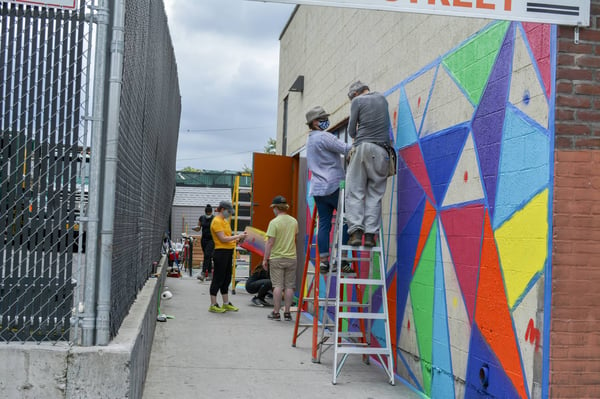 Photo Credit: Kalla Barranco, Urbahn Architects
Ennead Architects
Assisting Organization:

Richter+Ratner

and Concrete Safaris

Partner Organization:

P.S./M.S. 57, New York City public school

Project:

Revitalize shared community space in the school's library; also used by Concrete Safaris to connect East Harlem kids to nature and promote engagement.
FXCollaborative + Rebuilding Together NYC 
Assisting Organization:

Rebuilding Together NYC

Project:

Upgrade the

Woodbine Street Block Association Community Garden

.
This year, with the COVID-19 pandemic, has been anything short of normal. Public health guidelines and mandates have required project modifications to ensure the safety and well-being of volunteers. COVID-19 safety requirements include having every volunteer wear a face mask and projects be spread out across multiple days, decreasing the annual count of 10 projects to four this year. Still, an impressive volunteer count should surpass 100+ by the end of the year across all four projects, having completed the first two on August 15.
"For me, any time you can take your time, talent, and treasure to improve the lives of others, it's a good day. Seeing the amazing work that is being done through AIA New York's Day of Service is inspiring, and ConstructConnect is thrilled to be involved," said Johnson.
ConstructConnect is a proud sponsor of AIA New York's Day of Service. For more information on this initiative and planned projects, visit the AIA New York website.
About Melissa Bookout
As a content contributor at ConstructConnect, Melissa writes to inspire and encourage readers to thoughtfully consider new ways to achieve their maximum professional potential.
See Related Posts
Community Outreach