Modular Construction: Shipping Container Architecture
What does a retail district in Nashville, an apartment complex for homeless veterans in Orange County, CA and a condominium building in Detroit all have in common? They were all built using repurposed shipping containers as the primary building material.
Yes, those corrugated steel boxes you see stacked at shipyards, zipping past on a train when you're stopped at railroad crossings or cruising beside you on the highway carrying goods from all over the world are finding a second life being recycled into all types of buildings. This building trend has been used to build everything from restaurants and retail stores to single-family and multi-family housing to office buildings and hotels.
Part of a larger mixed-use development known as oneC1TY, C1TYblox is a retail district in Nashville that used 21 shipping containers to create 12,000 SF of space for restaurants, shops and a gym.
Nashville appears to be an up and coming city for shipping container architecture. Other projects planned for the city include 83 Freight, a $16 million, 55,000-SF housing development made up of 171 shipping containers and Stack 19, a short-term rental complex with 19 units and retail space and is expected to take only six months to complete.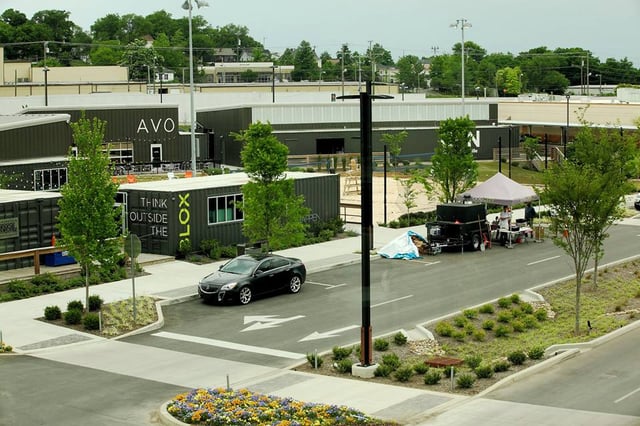 Potter's Lane is an apartment building in Midway City, CA made entirely or upcycled shipping containers providing rent-subsidized housing for homeless veterans. The sixteen studio apartments were constructed using 48 shipping containers. A similar project is coming to Los Angeles next year. The 84-unit Hope on Alvarado will provide transitional housing and be built using shipping containers.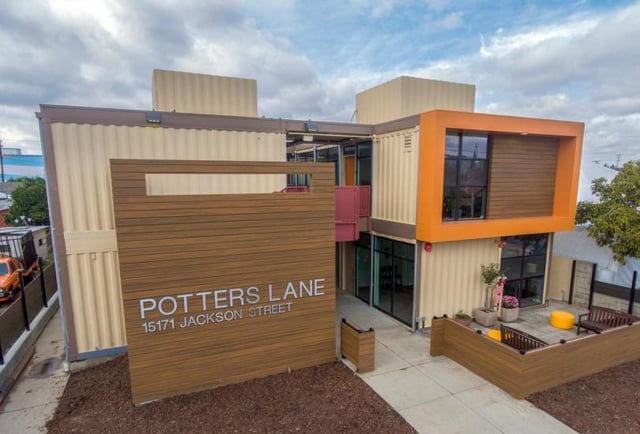 Detroit appears to be another up and coming hotbed for shipping container architecture construction. Trumbull Squared is a three-story condominium complex made of up nine shipping containers is a model unit from Three Squared, Inc., a development company specializing in shipping container architecture.
Other projects on the way from the company include Kaline Squared which will include eight units made using 28 shipping containers and Rosa Parks Squared which will be made from 96 shipping containers and contain 26 to 32 units. Three Squared also worked on the recently completed Cargominium project in Columbus, OH which used 54 shipping containers to build a 25-unit, 17,000-SF apartment building.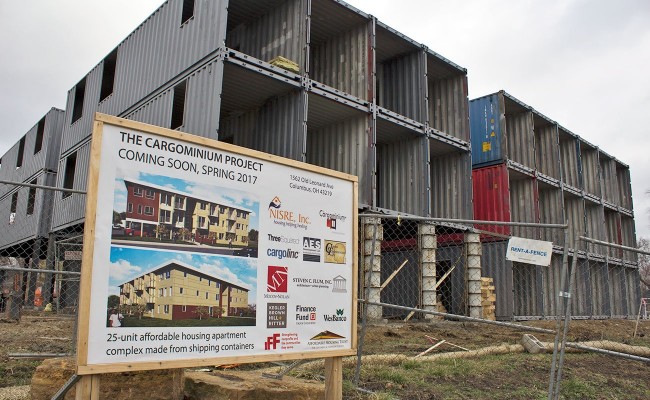 Upcycling shipping containers into buildings is a green solution for repurposing those giant steel boxes into something once they've outlived their usefulness to ship goods across the world, which is typically 10 to 15 years. Because of the trade imbalance in the United States, we're importing more goods than we're exporting, creating a surplus of shipping containers that often don't get used a second time.
When a shipping container reaches the end of its lifecycle, it is no longer structurally sound enough to have up to seven other containers loaded with hundreds of thousands of pounds of shipping stacked on top of it but more than strong enough to serve as a building material.
Because these containers are made of a weathering steel alloy, typically Corten, it is cost-prohibitive to melt them down and recycle them into building materials like steel beams and columns. Some of the benefits cited for using shipping containers as building materials include their strength, durability, mobility and affordability.
Strength & Durability
Shipping containers are constructed of steel and designed to carry loads upwards of 60,000 lbs. depending on their size and longer containers can weigh over 10,000 lbs. at their tare weight. Because of their rugged construction and structural strength they are virtually hurricane-proof and earthquake-proof. The weathering steel that shipping containers are made of creates a regenerative protective layer when it oxidizes that prevents it from further corrosion to withstand the elements.
Mobility
Because the containers are intended to be able to ship shipping virtually anywhere they can easily be transported by ship, truck or rail and are ideal for transport to any building site. When used as building blocks they are typically stacked and welded together. This means that the building can eventually be disassembled, relocated and erected again should the need arise.
Affordability
Depending on location and availability, shipping containers can be purchased and delivered for a relatively low price. Keep in mind that all other construction costs associated with conventional construction will remain like electrical, interior finishes, plumbing, insulation, etc.
This is in addition to the costs to stack, cut and weld together the reconfigured containers. Cost savings are typically seen in the reduction of labor hours needed onsite to assemble the project, similar to other types of modular construction. If only a few containers are being used it might not be any more cost effective than a traditional building.
The argument has been made that using shipping containers as building blocks can't be considered a green alternative. The paint used to coat the containers often contains toxic chemicals to protect them from corrosion from the elements and that the wooden floors are treated with pesticides that often contain arsenic and that stripping them away creates a ton of hazardous waste.
Wouldn't removing and properly disposing of the hazardous waste to make a container habitable be more sustainable than allowing the container to the elements where that same hazardous waste will be created when the paint begins to flake and peel and the insecticide-treated wood floors begin to rot and decompose?
It's also been noted that the plywood floors in many shipping containers are made from tropical hardwoods that aren't responsibly harvested in a sustainable way. This appears to be an issue to take up against the shipping container manufacturers since the intended purpose of the timber was flooring for a shipping container and not as a building material. The whole green aspect of shipping container architecture is reusing and recycling a component as a building material that otherwise would be discarded after its initial lifecycle.
Shipping container architecture has been proven as a versatile building material in everything from temporary disaster relief housing to upscale apartments and condominiums that can bring a green element to a construction project while also helping to reduce onsite waste, construction costs and building times. While shipping containers are not the ideal building material for every construction job or location, no building material is, they have been proven to be a unique alternative when and where they can be properly utilized.
About Kendall Jones
Kendall Jones is the Editor in Chief at ConstructConnect. He has been writing about the construction industry for years, covering a wide range of topics from safety and technology to industry news and operating insights.
See Related Posts
Operating Insights, Takeoff & Estimating