Construction Leads All Industries in Total Worker Deaths
The Bureau of Labor Statistics (BLS) recently released their 2015 Census of Fatal Occupational Injuries (CFOI) and the construction industry once again topped the list with 937 worker deaths. This is about a 4% increase in occupational fatalities over the 899 reported for 2014. This is the largest number of construction worker deaths since 2008.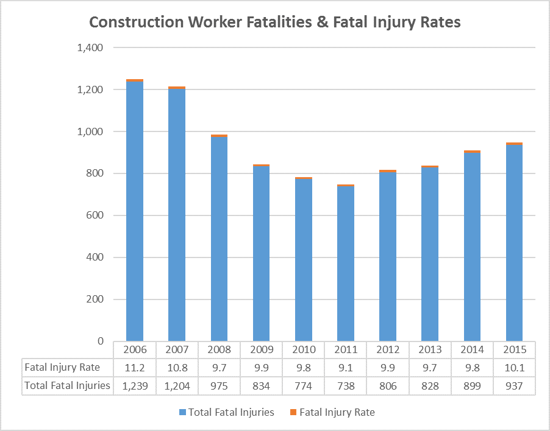 By comparison, total worker deaths only increased 0.3% in 2015, going from 4,821 to 4,836. For total private industry worker deaths, there was actually a decrease from 4,386 occupational fatalities in 2014 to 4,379 in 2015, a decrease of 0.15%. The construction industry represented 19.4% of all worker deaths in 2015 and 21.4% of all private industry worker deaths.
The fatal injury rate increased from 9.8 per 100,000 full-time equivalent (FTE) workers in 2014 to 10.1 in 2015. For all workers, the fatal injury rate was relatively unchanged going from 3.43 per 100,000 FTE in 2014 to 3.38 in 2015. For private industry, the rate of fatal occupational injuries dropped from 3.7 per 100,000 FTE in 2014 to 3.6 in 2015.
Despite accounting for the highest total of worker deaths, the construction industry ranked fourth in highest fatal injury rates among all industries. Agriculture, forestry, fishing and hunting had a fatal injury rate of 22.8 per 100,000 FTE followed by transportation and warehousing at 13.8 and mining, quarrying, and oil and gas extraction at 11.4.
Of the four industries with the highest fatal injury rates, construction was the only one to see an increase in both fatal occupational injuries counts and rates. The other three industries all decreased in total deaths and fatal injury rates from 2014 to 2015.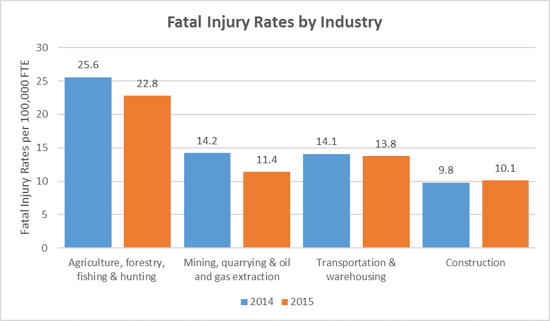 The Five Deadliest Jobs in 2015 (by fatal work injury rates):
Logging workers – 132.7 fatal injuries per 100,000 FTE workers
Fishers and related fishing workers – 54.8
Aircraft pilot and flight engineers – 40.4
Roofers – 39.7
Refuse and recyclable material collectors - 38.8
While the same occupations held the same top five spots as they did in 2014, all but two, logging workers and refuse and recyclable material collectors, saw a decrease in fatal injury rates.
Structural iron and steel workers in construction would have been sixth on the list with a fatal injury rate of 29.8, accounting for 17 worker deaths in 2015. Other occupations in construction with high fatal injury rates include first-line supervisors of construction trades and extraction workers (123 deaths) at 16.1 and construction laborers (235 deaths) at 15.6.
Construction Worker Deaths by Fatal Injury Rates
Occupations in construction that saw an increase in fatal injury rates in 2015 include structural iron and steel workers going from 28.3 to 29.8, construction laborers going from 13.3 to 15.6 and electricians going from 10.0 to 10.7. Operating engineers and construction equipment operators increased from 8.0 to 11.3, pipelayers and plumbers jumped from 5.6 t0 8.0 and carpenters rose from 4.8 to 6.7.
Not all occupations in construction saw increases in their fatal injury rates in 2015. Fatal injury rates for roofers dropped from 46.1 to 39.7, first-line supervisors fell from 17.4 to 16.1 and painters declined from 9.2 to 7.6.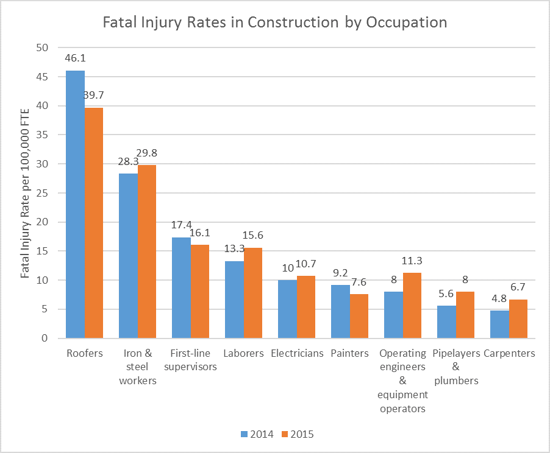 According to the 2015 CFOI report, foundation, structure and building exterior contractors had the largest increase in fatal injury totals in 2015 at 231 worker deaths, a 27% increase from the 182 in 2014.
There were several other construction occupations that recorded their highest number of worker deaths in several years. Construction laborers at 235 total worker deaths were the highest since 2008. Carpenters and electricians, both at 83 total worker deaths, was the most since 2009. Pipelayers, plumbers, pipefitters and steamfitters reported the most worker deaths since 2003 with 46 in 2015.
Construction Worker Deaths by Event or Exposure
Falls, slips and trips remain the primary cause of construction worker deaths. They led to 364 deaths in construction. Transportation incidents were next at 226 worker deaths followed by contact with objects or equipment at 156 fatal injuries and exposure to harmful substances or environments responsible for 136 worker deaths.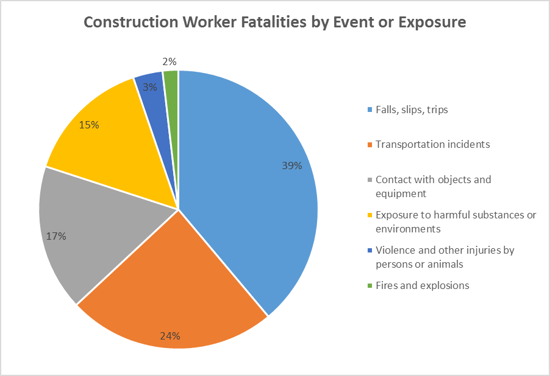 Falls
A majority of fatal falls, 249 of them, were classified as other falls to a lower level with only 10 of those fatalities occurring from falls of less than six feet. Falls through surfaces or existing openings accounted for 63 construction worker deaths and 32 fatalities were attributed to falls from collapsing structures or equipment.
Transportation Incidents
There were 136 construction worker deaths caused by roadway incidents involving motor vehicles. Of those, 66 were collisions with another vehicle, 33 were collisions with objects other than vehicles and 37 were from noncollision incidents such as overturned or jackknifed vehicles. Another 20 deaths were caused by incidents involving motor vehicles not on roadways.
Of the 49 pedestrian vehicular incidents, 24 were the result of pedestrians being struck in work zones. On a positive note, the number of pedestrians killed by being struck by vehicles in work zones dropped 40% in 2015 from the previous year.
Contact With Objects or Equipment
The number of construction workers killed as a result of contact with objects or equipment increased 39.5% in 2015, going from 114 construction worker deaths to 159. Two of the Occupations Safety and Health Administration's (OSHA's) Fatal Four, being struck by objects and getting caught in/between objects, are responsible for 157 of those 159 fatalities.
The leading causes of struck by deaths were from falling objects or equipment other than a powered vehicle at 52 deaths and being struck by a non-transport powered vehicle which caused 23 deaths in 2015.
Getting struck, caught or crushed in collapsing structures, equipment or materials was responsible for 47 construction worker deaths. Being caught in or compressed by equipment or objects resulted in 20 deaths.
Exposure to Harmful Substances or Environments
Exposure to electricity caused 81 construction worker deaths in 2015, with 53 being attributed to direct exposure. There were 36 deaths caused by exposure to harmful substances with 27 of those being from unintentional overdoses from drugs and alcohol. That's a 50% increase in construction worker deaths from unintentional overdoses. There were 17 deaths attributed to extreme environmental heat.
OSHA's Fatal Four
In the construction industry, the four leading causes of worker deaths not involving highway collisions were falls, being struck by objects, electrocutions and getting caught in/between objects. OSHA has dubbed these the Fatal Four as they were responsible for 64.2% of all construction worker deaths in 2015.
Falls - 364 out of 937 total construction worker deaths in 2015 (38.8%)
Struck by Object - 90 (9.6%)
Electrocutions – 81 (8.6%)
Caught in/between - 67 (7.2%)
There was an increase in total construction worker deaths for each of the Fatal Four in 2015.
Construction Worker Deaths by Primary Source of Fatal Injury
Taking a look at some of the primary sources of fatal workplace injuries in the construction industry we see a strong correlation to the leading events or exposure types that lead to worker deaths.
Roofs were the primary cause of 106 construction industry worker deaths and about half of those were attributed to roof edges. Ladders were the primary cause of 89 deaths and scaffolding was the primary source for 55 deaths.
Highway vehicles were the primary source of 192 worker deaths. 92 of those 192 were from freight hauling and utility trucks. Multi-purpose highway vehicles such as pickup trucks were the primary source for 71 deaths and passenger vehicles accounted for 29 fatal injuries.
Parts and materials were the primary source of injury for 912 deaths. Forty-eight of those were from electric parts and another 29 were from building materials.
Machinery was the primary source of fatal injury for 91 deaths in construction. Aerial and scissor lifts were responsible for 20 deaths, excavating machinery for 17 deaths, road grading and surfacing machinery for 13 deaths and cranes were the primary source of 11 fatal injuries.
The total number of construction worker deaths have steadily increased the past few years. A very small number of construction deaths are the result of true accidents. The industry needs to do more to curb this increasing trend by creating and promoting a safe work environment. Improving construction worker safety is the only way to reduce these numbers and protect all workers.
About Kendall Jones
Kendall Jones is the Editor in Chief at ConstructConnect. He has been writing about the construction industry for years, covering a wide range of topics from safety and technology to industry news and operating insights.
See Related Posts
Construction Safety