Canadian Total Contemplated Spending Increases to 6-Month High
The March release of ConstructConnect's Expansion Index registered another month of impressive gains for the construction industry across both the United States and Canada. At the national level, the U.S. index result reported a sequential month of strong double-digit gains, while Canada's reading posted a six-month high.
The latest U.S. Expansion Index reading of 1.19 signaled a near 20% increase in the dollar value of February's contemplated projects as compared to the same month a year ago. This reading marks the eighth consecutive month in which the Index has reported at least a 16% gain from year-ago levels before adjusting for inflation. Among the fastest-expanding states were Idaho, West Virginia, Texas, and Utah.
Regionally, the Ohio River Valley from Indiana through West Virginia, and the Southeast coastal states from Texas through Virginia, all reported above-average levels of expansion activity relative to the rest of the country. Note that geographies with lower readings do not necessarily indicate market weakness, as lower readings can result from exceptionally high contemplated construction spending in the comparable year-ago period.
The latest nationwide Canadian reading at 1.08 marks a sixth-month high thanks to rising levels of anticipated spending in New Brunswick, Ontario, and Manitoba, which more than offset contractionary readings in Saskatchewan and Newfoundland and Labrador. At a reading of 1.10, Manitoba registered the largest 1-month change amongst all provinces, increasing by six basis points. The last time Manitoba registered a higher monthly reading was in late-2021.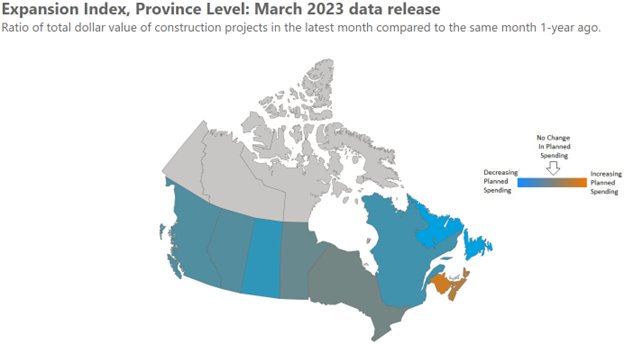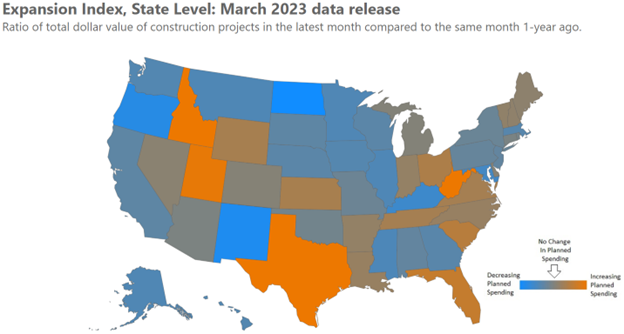 Verticals Analysis
Among the eight major verticals monitored by ConstructConnect, more than 4-in-10 of all U.S. states reported a 20% or greater increase in contemplated industrial, community, medical, and retail construction spending compared to the same month one year ago. Conversely, civil and commercial results indicated that either a declining proportion of states experienced significant expansion, or—as in the case of commercial—that a larger proportion experienced modest to severe contraction.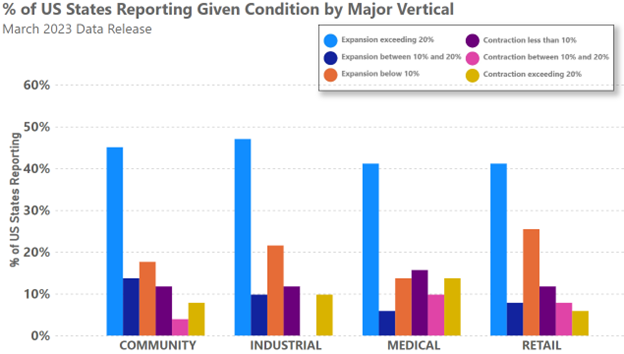 These results may be partially due to the growing influence of high-value megaprojects, which concentrate substantial amounts of construction spending, usually in the billions of dollars, in specific locations. The rising frequency of megaproject developments can increase the number of states experiencing significant growth and yet hide imbalances in intrastate anticipated construction activity.
Canadian contemplated spending by vertical in the time between Q2 2022 and Q1 2023 has generally weakened. While expected community spending remains strong at present, with more than half of all provinces reporting contemplated spending growth of more than 20%, the same can no longer be said of the commercial, government, medical, and retail verticals. In each of these verticals, the proportion of provinces reporting strong expansion has declined while the proportion of provinces reporting some level of contraction, and even strong contraction, has risen.
ConstructConnect monitors expansion activity data by the following verticals: civil, commercial, community, educational, government, industrial, medical, residential, and retail.
Metropolitan Statistical Area Analysis
At the more granular metropolitan statistical area level, ConstructConnect tracks 23 Canadian and 378 U.S. MSAs. In specific instances, a large expansionary reading for a given MSA can result from the introduction of a megaproject to the area or an increase in the number of planned projects at present compared to a year ago. Furthermore, the introduction of a megaproject one year ago can also negatively affect an MSA's current readings. The rankings for the month's top 5 MSAs by country are as follows:
| | |
| --- | --- |
| Top 5 Canadian MSAs by Expansion Index Reading | Top 5 USA MSAs by Expansion Index Reading |
| St. Catharines-Niagara, ON | Port St. Lucie-Fort Pierce, FL |
| Kitchener, ON | Dalton, GA |
| Quebec, QC | Alexandria, LA |
| Saint Johns, NB | Decatur, AL |
| Halifax, NS | Battle Creek, MI |
Within the United States, MSA-level data continues to signal robust prospects for the construction industry. The latest data indicated that nearly 4-in-10 expect contemplated spending to grow by 20% or more. Furthermore, the proportion of MSAs expecting any amount of contraction in their contemplated spending remains historically low.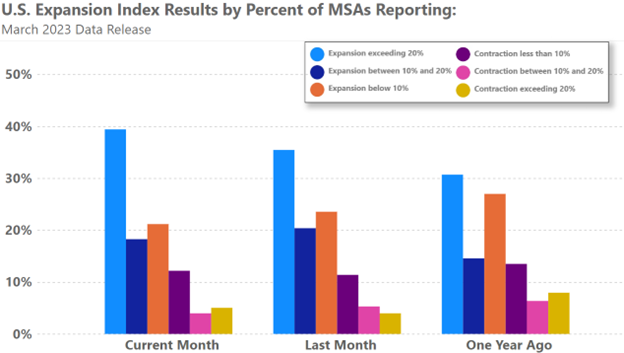 Learn More
Each month ConstructConnect provides construction activity insights thanks to its suite of proprietary market monitoring products. The results shared in our public reports provide only a small glimpse of the total capabilities of our offerings.
ConstructConnect's Expansion Index is a monthly measure of the nominal dollar value of planned or contemplated construction projects compared to the same month one year ago. The Index geographically covers the United States, Canada, and their respective states and metropolitan statistical areas.
Fortunately, ConstructConnect makes the entire Expansion Index data series publicly available, including its cross-sectional analytics that monitors planned construction activity at each combination of market vertical and MSA levels. References to the Expansion Index should cite ConstructConnect and the website.
About Michael Guckes, Senior Economist
Michael Guckes is Senior Economist for ConstructConnect. He is an international speaker on the North American construction market. Michael has over a decade of economics-related experience in the construction and manufacturing industries.