Broad-Based Expansion Across Most Verticals Is Powering North America Construction
ConstructConnect's Expansion Index data through the end of June 2023 reported accelerating contemplated spending growth in the U.S. and Canada at the rate of 16% and 5%, respectively. Rising contemplated spending in the provinces of Alberta, Nova Scotia, and Ontario offset contracting results in Newfoundland and Quebec. Canada's overall reading was slowed by a substantially lower reading for Quebec from the month prior.
U.S. results pointed to a continuation of the accelerating expansion first witnessed in August 2022, when national expansionary readings first accelerated from less than 10% to as high as 20% at its most recent peak. Idaho continues to lead among all other U.S. states in terms of total expansion, followed by Texas, Utah, and Missouri.
Regional areas of faster expansion included the rectangular collection of states formed by Utah, Arizona, Louisiana, and Missouri. Among all states and Washington D.C., 39 geographies reported positive levels of expanding activity in June.
After being a pillar of strength for the industry in 2022, Mississippi, Alabama, and Georgia all witnessed their index readings slowly fall to the point of contraction during the first half of 2023. The states with the steepest contraction in activity for the month included North Dakota, Hawaii, and West Virginia.
Hawaii and West Virginia both saw their readings fall sharply in just the very recent past, unlike North Dakota, which has struggled with degrading readings throughout the year-to-date period. Geographies with sharp and rapid declines in their Index readings do not necessarily indicate market weakness, as such behaviors can result from the inclusion or expiration of megaprojects from the Expansion Index's calculations.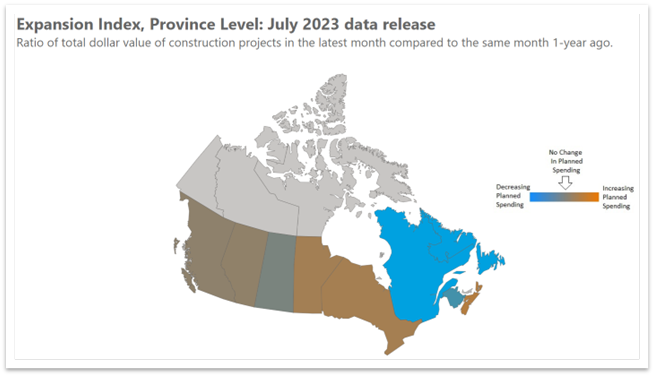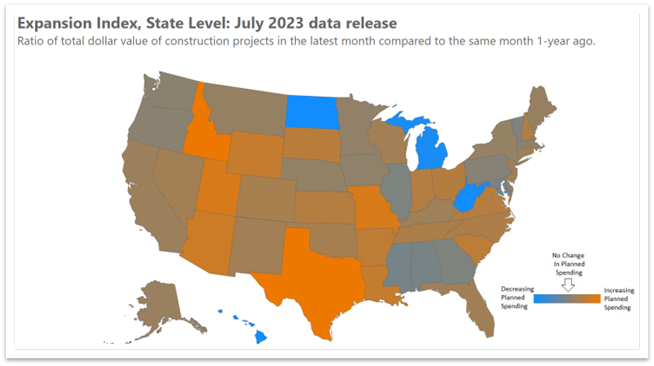 Verticals Analysis
ConstructConnect monitors expansion activity data by the following verticals: Civil, Commercial, Community, Educational, Government, Industrial, Medical, Residential, and Retail.
In recent months industrial activity has pulled ahead of all other verticals, as evidenced by nearly 60% of all states reporting 20% or greater expansion in contemplated industrial spending[1]. Tying for second place were community and government contemplated spending, with slightly less than 40% of all states reporting very strong expansion activity.
In general, year-to-date activity across most verticals has been encouraging. In the latest data release, six of the eight nonresidential verticals tracked by ConstructConnect reported that 70% or more of all states experienced some level of expanding activity. Only contemplated spending in the commercial and retail verticals were unable to reach this high bar.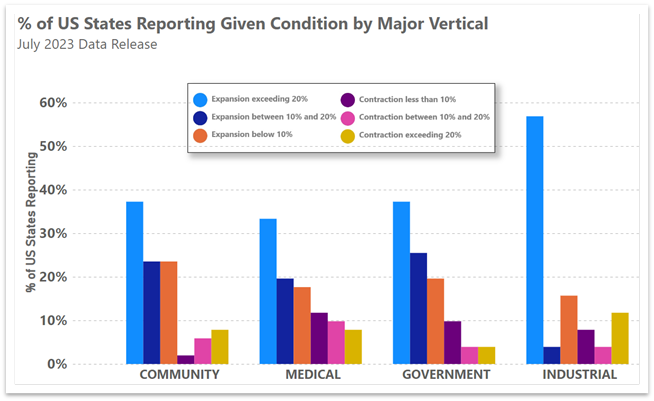 Canadian vertical performance has been much more variegated in recent months. Although contemplated spending remains resilient within the retail, community, and civil space, contemplated spending is contracting broadly in the government, industrial and medical categories.
As the year has progressed, several verticals have begun to exhibit a bimodal distribution in their outcomes as a large number of provinces report either rapidly expanding or contracting activity, hollowing out the number of provinces left reporting only modest changes in their results.
Metropolitan Statistical Area Analysis
At the more granular Metropolitan Statistical Area (MSA) level ConstructConnect tracks 23 Canadian and 378 U.S. MSAs. In specific instances, a large expansionary reading for a given MSA can result from the inclusion or expiration of a mega-project to the Expansion Index's calculations. The rankings for the month's top 5 MSAs by country are as follows:
| | |
| --- | --- |
| Top 5 USA MSAs by Expansion Index Reading | Top 5 Canadian MSAs by Expansion Index Reading |
| Austin-Round Rock, TX | London, ON |
| Florence, SC | Saguenay, QC |
| South Bend-Mishawaka, IN-MI | Saint Catherines-Niagara, ON |
| Decatur, AL | Hamilton, ON |
| Victoria, TX | Kitchener, ON |
The top five U.S. MSAs list experienced substantial turnover in the June data, with only Decatur, AL retaining a top five ranking. MSAs located in Texas and South Carolina replaced long-standing incumbents located in Louisiana and New York.
Within the United States, MSA-level data continues to signal robust prospects for the construction industry. In each month of the second quarter, at least 4 in 10 MSAs indicated contemplated spending growth of 20% or more from a year ago. Furthermore, the proportion of MSAs expecting any amount of contraction in their contemplated spending remains low. June data reported that fewer than 20% of all US MSAs experienced some level of contracting activity, and only 3.7% reported strong contraction compared to year-ago levels.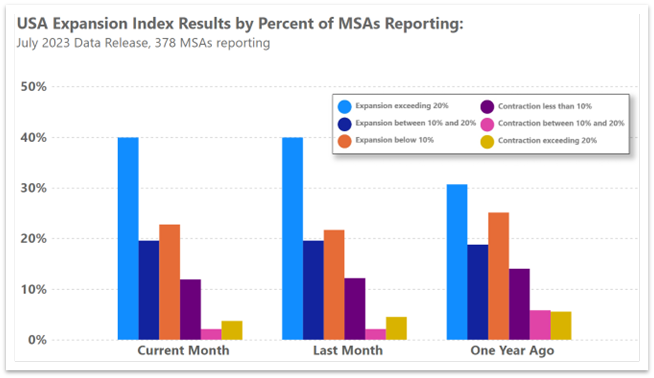 Learn More:
Each month ConstructConnect provides construction activity insights thanks to its suite of proprietary market monitoring products. The results shared in our public reports provide only a small glimpse of the total capabilities of our offerings. Fortunately, ConstructConnect makes the entire Expansion Index data series publicly available, including its cross-sectional analytics that monitors planned construction activity at each combination of market vertical and MSA levels.
ConstructConnect's Expansion Index is a monthly measure of the nominal dollar value of planned or 'contemplated' construction projects compared to the same month one year ago. The Index geographically covers Canada, the U.S., and their respective states and metropolitan statistical areas (MSAs). Users are invited to dive deeper into the data underlying the Expansion Index here.
References to the Expansion Index should cite ConstructConnect and the website.
About Michael Guckes, Senior Economist
Michael Guckes is Senior Economist for ConstructConnect. He is an international speaker on the North American construction market. Michael has over a decade of economics-related experience in the construction and manufacturing industries.