September Expansion Pace Quickens on Gains in Medical, Government, & Community
ConstructConnect's Expansion Index, a monthly measure of the dollar value of planned or contemplated construction projects compared to the same month one year ago, for September 2022 was 10% and 20% higher overall in Canada and the United States, respectively.
Among expanding U.S. states, Texas ranked first, followed by Virginia and Ohio. Other states which registered strong expansionary activity included West Virginia, Wyoming, and Vermont. Conversely, New Mexico followed by Washington, and Wisconsin reported the most significant decrease in planned spending.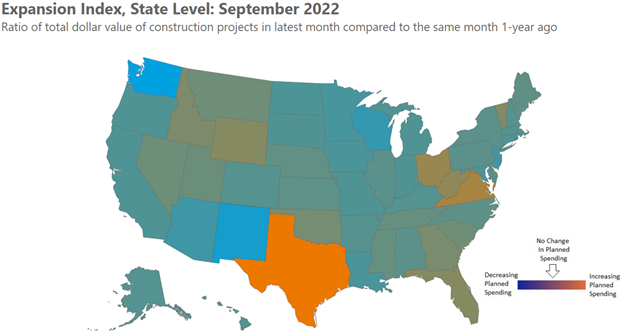 In Canada, New Brunswick followed by Ontario reported the fastest expansion among all provinces. In contrast, planned spending in Manitoba contracted at an accelerating rate for a third consecutive month. Several other provinces reported either slowing expansion or no change in their September EI readings as compared to recent months. This may in part be due to exceptionally strong planned construction levels recorded a year ago.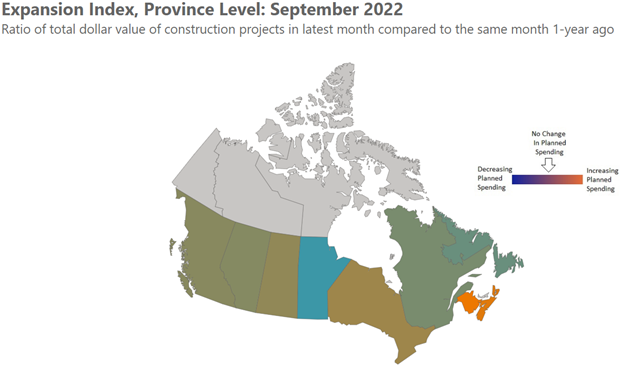 Verticals Analysis
Among the eight major verticals* monitored by ConstructConnect, more than half of all states and Washington, D.C. reported 20% greater contemplated construction spending in the Industrial and Medical verticals compared to a year ago. Furthermore, nearly 4 in 10 states reported more than 20% expansion in government and civil planned construction. At the other end of the spectrum, residential and commercial planned construction reported substantially less aggressive planned construction activity compared to a year ago.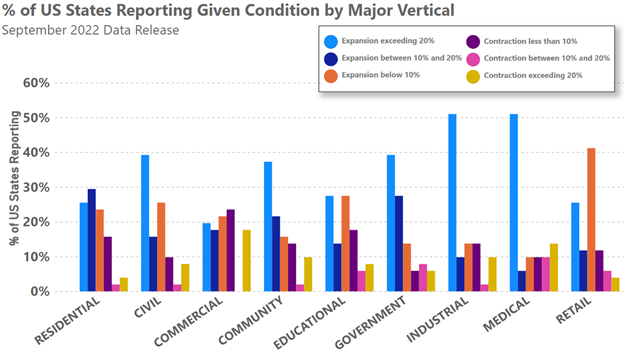 In Canada, more than half of all provinces reported greater than 20% expansion in the community and retail verticals. This was followed by a significant number of provinces issuing greater than 20% expansion results in residential and government. Those verticals which signaled challenging conditions included civil, commercial, and educational. In each of these verticals, most provinces reported contracting planned activity of 10% or more.
Metropolitan Statistical Area Analysis
At the more granular Metropolitan Statistical Area, ConstructConnect tracks 23 Canadian areas along with 378 U.S. geographies. In some instances, a large expansionary reading for a given MSA can result from the introduction of a megaproject to the area or an increase in the number of planned projects at present compared to a year ago.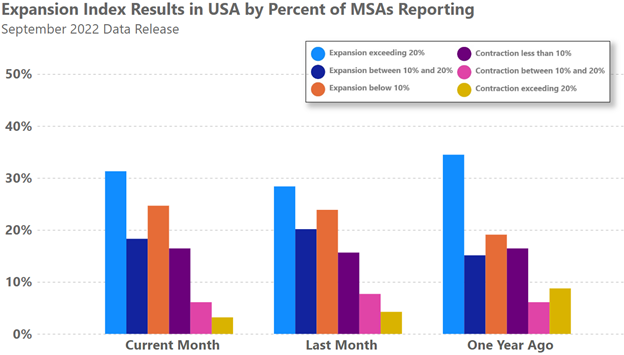 Large projects in Port Saint Lucie, Florida and Alexandria, Louisiana resulted in these MSAs topping the month's list. These MSAs were followed by Goldsboro, North Carolina; Austin, Texas; and Decatur, Illinois. Comparing this month's results to those from one year ago, there has been a shift towards the center as the count of MSAs reporting either expansion or contraction in excess of 20% has declined while the number reporting more modest levels of change in contemplated spending has grown.
Among Canadian MSAs, Hamilton topped the list in the latest month followed by Saint John, Kitchener, Victoria, and Saguenay. Each of the top five MSAs reported an expansion, as defined by the Index, of more than 50%.
*ConstructConnect monitors expansion activity data by the following verticals: civil, commercial, community, educational, government, industrial, medical, residential, and retail.
About Michael Guckes, Senior Economist
Michael Guckes is Senior Economist for ConstructConnect. He is an international speaker on the North American construction market. Michael has over a decade of economics-related experience in the construction and manufacturing industries.