August's Expansion Pace Remains Steady Yet Fewer Areas Report +20% Expansion
ConstructConnect's Expansion Index, a monthly measure of the dollar value of construction projects in planning compared to the same month one year ago, registered 10% overall expansion in Canada and 16% for the United States for the month of August 2022.
In Canada, New Brunswick reported the fastest expansion for a second consecutive month followed by Ontario. Repeating July's results, the provinces of Manitoba and Newfoundland and Labrador reported the greatest levels of contraction among all provinces.
U.S. expansion was geographically diversified with Texas, Ohio, and West Virginia ranking in the top three. They were closely followed by Vermont, Florida, and Georgia. Washington state contracted faster than any other state for a second consecutive month followed by New Mexico.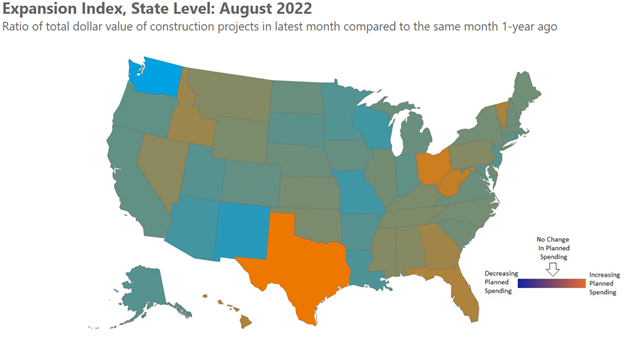 Verticals Analysis
Among the eight major verticals* monitored by ConstructConnect; those reporting the greatest magnitude of expansion in the United States in the latest month included industrial, government, and community. In each of these verticals, more than 4 in 10 states reported expansion in excess of 20%, while more than half of all states reported greater than 10% expansion. In contrast, more than 40% of all states reported some level of contracting commercial activity in the latest month's data.
In Canada, more than half of all provinces reported greater than 20% expansion in the community, government, and retail verticals in both the latest and penultimate months. Joining the list of quickly expanding verticals for August was residential. Contracting activity was reported in the civil and educational verticals. The dichotomy of construction activity by vertical may reflect both the unevenness of construction opportunities in Canada along with the importance of having a well-diversified market strategy.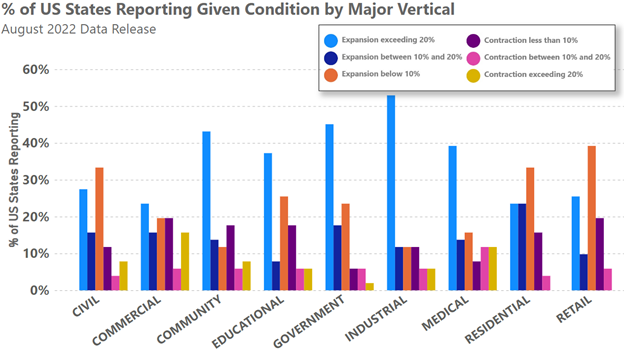 Metropolitan Statistical Area Analysis
At the more granular Metropolitan Statistical Area, ConstructConnect tracks 23 Canadian areas along with 378 U.S. geographies. At this more granular level the latest data release suggested a modest deceleration in U.S. expansion activity. During the latest month, the proportion of MSA's reporting less than a 10% increase in activity climbed at the expense of MSAs reporting greater than 20% increases in activity.
Canada's results were generally unchanged from the prior month with nearly 4 in 10 MSAs reporting greater than 20% expansion compared to the same month one year ago. The proportion of MSAs reporting deep contraction declined slightly as the proportion reporting modest contraction increased.
* ConstructConnect monitors expansion activity data by the following verticals: civil, commercial, community, educational, government, industrial, medical, residential, and retail.