Planned Construction Spending Remained Upbeat Through October
ConstructConnect's Expansion Index is a monthly measure of the nominal dollar value of planned construction projects compared to the same month one year ago. The Index geographically covers the United States, Canada, and their respective states and metropolitan statistical areas. November's release, which reports on data collected in the prior month, extended several of the industry trends that ConstructConnect has previously identified.
The Index's latest national reading for Canada at 1.06 marked the reading's fifth consecutive decline. A falling reading above 1.00 signals slowing growth in planned construction spending. The Index has fallen by 10 points since reaching a localized high of 1.16 in June 2022. Similarly, it has fallen a total of 15 points from a year ago. The fastest expansion in planned construction spending was recorded in New Brunswick, followed by Ontario and Saskatchewan.
In contrast to the slowing expansion affecting Canada, U.S. nationwide readings have reported accelerating expansion in each of the last seven months. The latest reading at 1.22 represents a 22% increase in the total dollar value of contemplated projects in October 2022 as compared to October 2021. This latest reading is furthermore the highest in any of the last 24 months.
Among the states, Idaho reported the greatest year-on-year expansion, followed by a tie for second place between Texas and Virginia. The fastest expanding regions included the mountainous states between Nevada and Montana and the states from Ohio to Virginia and then south to Florida. Lower readings do not necessarily indicate market weakness, as lower readings can be caused by exceptionally high planned construction spending in the comparable year-ago period.

Verticals Analysis
Among the eight major verticals* monitored monthly by ConstructConnect, over half of all U.S. states reported industrial planned spending was up more than 20% from a year ago. This was followed by more than 40% of all states reporting similar expansion expectations in the government and community verticals. Unfortunately, challenging conditions were reported in the commercial vertical, with over one-third of all states reporting some level of contracting contemplated spending. This vertical also reported the fewest number of states expecting a planned spending expansion of 20% or more.
The latest data on contemplated spending in Canada indicated that more than three-quarters of all provinces expect greater than 20% expansion within the community vertical. This was followed by nearly half of all provinces expecting more than 20% expansion in retail. Unfortunately, the month's results for industrial, medical, and commercial activity all pointed to a large proportion of providences reporting a contraction in planned spending of more than 20%.
Considering that rising interest rates are making monthly mortgage payments more expensive, it would seem reasonable to expect a cooling of planned residential construction spending in the United States and Canada. However, contemplated U.S. residential construction spending reported another month of strong results. More than two-thirds of all states reported an expansionary reading above 10%, according to the latest data.
This compares favorably to results collected five months ago when fewer than half of all states were as optimistic about contemplated residential construction spending. Interestingly, Canada has seen a growing proportion of its provinces expect either strong expansion (+20%) or strong contraction (-20%). One result of this diverging outlook is a shrinking number of provinces that expect only modest changes to their contemplated project spending.
Metropolitan Statistical Area Analysis
At the more granular Metropolitan Statistical Area level, ConstructConnect tracks 23 Canadian and 378 U.S. MSAs. In some instances, a large expansionary reading for a given MSA can result from the introduction of a megaproject to the area or an increase in the number of planned projects at present compared to a year ago. The month's top five MSAs by country and ranked in descending order are as follows:
| | |
| --- | --- |
| Top 5 Canadian MSAs by Expansion Index Reading | Top 5 U.S. MSAs by Expansion Index Reading |
| Hamilton, ON | Port St. Lucie-Fort Pierce, FL |
| Kitchener, ON | Alexandria, LA |
| Saint John, NB | Goldsboro, NC |
| Victoria, BC | Syracuse, NY |
| Saguenay, QC | Austin, TX |
Within the United States, the proportion of MSAs that reported a 20% or greater increase in planned spending remained more optimistic as compared to results from a year ago (see chart below). In particular, the proportion of MSAs expecting any level of contemplated spending contraction has fallen significantly from over 30% a year ago to less than 20%, according to the latest data. A disproportionate amount of that change has been thanks to a significant decline in the proportion of MSAs with strong double-digit contraction expectations.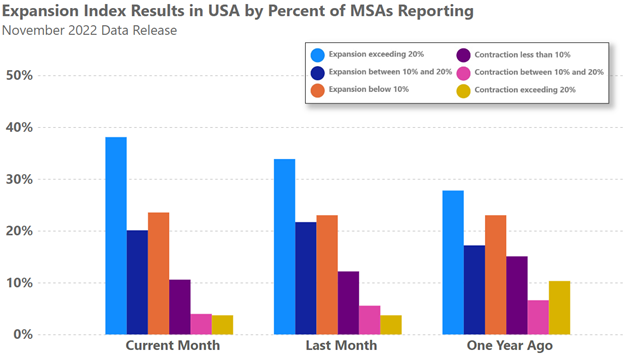 *ConstructConnect monitors expansion activity data by the following verticals: civil, commercial, community, educational, government, industrial, medical, residential, and retail.
Learn More
Each month ConstructConnect provides construction activity insights thanks to its suite of proprietary market monitoring products. The results shared in our public reports provide only a small glimpse of the total capabilities of our offerings.
Fortunately, ConstructConnect makes the entire Expansion Index data series publicly available, including its cross-sectional analytics that monitors planned construction activity at each combination of market vertical and MSA levels. Users are invited to dive deeper into the data underlying the Expansion Index here.
References to the Expansion Index should cite ConstructConnect and the website.
About Michael Guckes, Senior Economist
Michael Guckes is Senior Economist for ConstructConnect. He is an international speaker on the North American construction market. Michael has over a decade of economics-related experience in the construction and manufacturing industries.